Getting a New Jersey DBA would legally allow you to operate your business with a different name than its legal name. A "doing business as" (DBA) is also known as a tradename, assumed name, or fictitious name. All businesses (sole proprietors, partnerships, LLCs, Corporations, etc.) can use assumed names to have multiple names for one business.
But how to get a DBA in New Jersey and is it mandatory for every LLC? Here's what you need to know about DBAs.
What Does A New Jersey DBA Mean?
You may get a New Jersey DBA name if your business goes by a different name than its official name. In New Jersey, you'll have to register either an alternate name or tradename based on your business type. Alternate name registration is for formal entities like LLCs, LLPs, and Corporations while sole proprietors and partnerships may register for a trading name.
When Do Businesses Use DBA? – Businesses generally tend to use DBAs (alternate or trade names) when they won't use another similar name or are trying to build different branches or product lines for their business.
For instance: In New Jersey, Frank's Burgers LLC can register an alternate name as "Best Burgers in Town" or spin-off another branch as "Frank's Sandwiches & Ice-creams".
Do I Need A DBA in New Jersey?
Not all New Jersey businesses have to get a DBA. A New Jersey DBA (alternate name) is only mandatory if you want to operate your registered business (LLC, LLP, or Corporation) under a different name. If you run a Sole proprietorship or partnership, then the business is by default referred to by your legal name. In this case, you may get a separate company name by registering for a tradename.
For instance, instead of operating your partnership as Jack & Jones, you'll be legally recognized as "Jack & Jones Fashion Hub". So you may choose to have a tradename but it isn't mandatory.
What to Consider While Filing a DBA?
You should know some important things before filing for a New York DBA (alternate/trade name). Your DBA has to comply with the following state rules otherwise the New Jersey DOS may reject your request.
Make sure that the DBA name is unique from other registered entities with New Jersey DOS.
A formal business (LLC, corporation, or LLC) has to be in good standing to file an alternate name.
The filing fees have to be paid through a check. Cash payments are not accepted by New Jersey DOS.
A New Jersey DBA is effective for a maximum of 5 years. You may renew the name with a filing fee of $25.
How to Get a DBA in New Jersey?
To get a DBA in New Jersey, you may either have to file an Alternate name with the county clerk or a Tradename application with the state department based on your business type. But first, you must make sure that no other business in your county or state is using that name.
Just follow these simple steps to get a DBA in New Jersey.
Step 1: Do a New Jersey DBA Search
Firstly, the alternate/trade must be unique from existing registered businesses in New Jersey. You simply have to search for your desired name on the Division of Revenue website to make sure it's available. Here's a guide on New Jersey business name search to check for name availability and find a unique DBA name.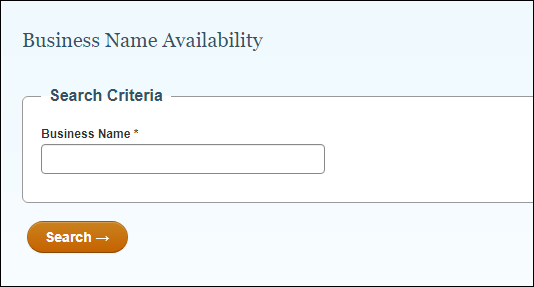 Next, you should know the New Jersey naming rules. Your DBA name shouldn't include the following.
Words that confuse your firm with a state or federal government agency (state department, New Jersey Police, FBI, treasury, etc.)
The use of the following words is restricted without approval. – words related to banking, insurance, professional services related to medicine, attorney, etc.
The name shouldn't imply that the business is created for an illegal purpose.
Note: Sole proprietorships and partnerships have to check the trade name availability at the local county office.
Step 2: File NJ DBA at County Clerk or SOS
If you're a sole proprietor or partnership business, you'll have to visit your county clerk's office to file a Trade Name application. If you already own a New Jersey LLC, LLP, corporation, non-profit, or any other incorporated business, you'll have to file an Alternate Name application with the New Jersey Department of Revenue. Here's how to file a Middlesex County tradename.
File a Tradename in Middlesex County
First, it's a good idea to do a tradename search on the Middlesex county database. Once you've made sure that the name is available, you have to submit a Tradename Certificate to the Middlesex Country Clerk.
You may send the notarized form by mail or submit it in person at County Clerk's office at the below address.
Office Address:
Middlesex County Administration Building
4th floor
75 Bayard Street
New Brunswick, NJ 08901
Mail to:
Middlesex County Clerk
P.O. Box 1110
New Brunswick, NJ 08903-1110
File an Alternate Name for LLC, Corporation, or LLP
As mentioned, for incorporated businesses (LLC, LLP, corporations, Nonprofits, etc.) in New Jersey, you'll have to file an Alternate Name certificate with the New Jersey DOS. You may submit it online, by mail, or in person.
Office Address:
NJ Division of Revenue
Corporate Unit
33 West State Street, 5th Fl.
Trenton, NJ 08608
Mailing Address:
NJ Division of Revenue
Corporate Unit
P.O. Box 308
Trenton, NJ 08646
Fax Filing: 609-984-6851
What is the Cost To File DBA in New Jersey?

The cost of filing a New Jersey DBA is similar whether you're getting a Trade Name from the county clerk or an Alternate Name for an incorporated business. But note that the amount should be paid in check and not cash.
Cost of Filing with Middlesex County: You may send the notarized form by mail to the county office which requires a $50 filing fee or submit it in person at the County Clerk's office with a $56 which also includes the notarization.
Cost of Filing with New Jersey SOS: Filing an Alternate Name with New Jersey SOS also cost $50.
Can I Update My NJ DBA?
Yes, you can easily update your New Jersey DBA but it doesn't require filing for a different document. To change the name, you simply have to submit a new Alternate name certificate (C-150G form) to the New Jersey Department of state.
Do I Have to Renew my New Jersey DBA?
Yes, an Alternate Name in New Jersey has to be renewed every 5 years. You may file the Renewal of Registration of Alternate Name or submit an online application through the business amendments portal. The renewal of DBA costs $25 for corporations and $50 for other entities.
When submitting the renewal application, keep two things in mind.
You have to submit renewals within 3 months before the expiration of the alternate name. You won't be able to submit it afterward.
Be exact on the name. Don't change the order or abbreviate any word.
Can I File Multiple DBAs in New Jersey?
Yes, a business can register multiple DBAs in the same state. However, states require you to pay additional incremental costs for each DBA. So you can have as many New Jersey DBA as you can afford.
What if I Don't Want To Use My DBA Anymore?

If you don't want to use the Alternate Name of your LLC/Corporation, you may withdraw it by filing the Certificate of Termination form [C-150B]. You'll have to pay $75 to New Jersey DOS in the form of a check (cash is not accepted).
Mail it to:
NJ Division of Revenue,
PO Box 308,
Trenton NJ 08646
Or, Fax: 609.984.6851
Frequently Asked Questions
1. How much does a New Jersey DBA cost?
An alternate/trade name registration in New Jersey costs $75.
2. Do I have to file DBA with the county clerk or New Jersey DOS?
In New Jersey, sole proprietors and partnerships have to file a trade name with county clerk while incorporated businesses (LLCs, LLPs, Corp., etc.) have to file an Alternate name with the state department.
3. Do I have to renew my DBA every year in New Jersey?
No, a New Jersey alternate name lasts for 5 years and you may renew it before 2 months of its expiration.
4. Do DBAs protect personal assets?
No, a BDA is simply an alternate name or assumed name of your business. A DBA registration won't protect your personal assets like an LLC or corporation.
5. Does New Jersey charge separate taxes for DBAs?
No, New Jersey doesn't charge separate taxes for alternate or tradenames.
What After I File My New Jersey DBA?
After your DBA is approved, you may do a few things to take maximum advantage of it. If your DBA represents a different product line, you should open a separate business account to keep finances in order. Also, you may create an online store specifically for your DBA for it to stand out online. We hope that this New Jersey DBA guide has cleared all your doubts.