When registering your North Carolina LLC or corporation, the state asks for details regarding your registered agent. As an owner, you'll have many responsibilities and can't go through every legal document sent by the state department. This is where North Carolina registered agent steps in. But what purpose do they serve and what are the requirements to appoint an agent in North Carolina? Here's all you need to know.
What is a North Carolina Registered Agent?
When your business is served with a lawsuit, it is crucial to receive legal documents in a timely manner. Any delay could lead to serious repercussions in a courtroom. North Carolina registered agent is an individual or company that's on public record to receive legal notices (service of process) from the NC secretary of state office on your behalf.
You can appoint anyone for this job as long as they're eligible within North Carlina laws. Once received, the agent reviews the document and notifies the LLC or corporate entity in a timely manner.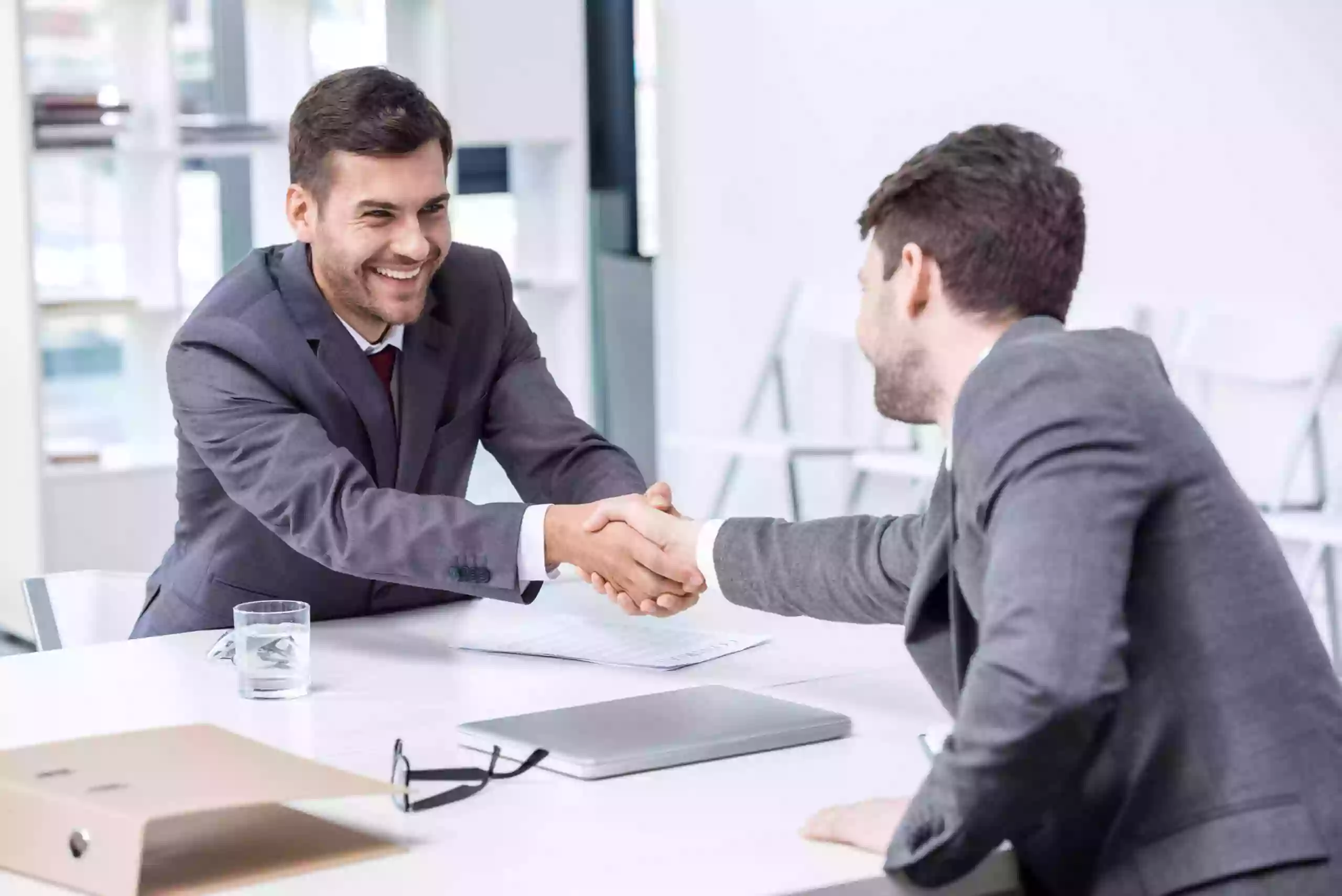 Why is it Mandatory to Have a Registered Agent in NC?
In North Carolina, every business (LLC, corporation, non-profits, etc.) is lawfully required to have and maintain a registered agent. This makes sure the secretary of state can easily notify businesses about things like legal notices, and annual reports. Your articles of organization will also require you to file the details of your registered agent.
Can I Be My Own Registered Agent in NC?
Although owners can face certain issues by choosing themselves as registered agent, the state laws allow them to do so. You are free to elect yourself but you also have the option to choose your business partner or an employee of your firm. The only requirement is they should be more than 18 years old with a street address in North Carolina.
Risks with Being Your Own Agent
You have to be present at the registered office during business hours.
An additional agent will be necessary to expand your business out of the state.
An agent's street address is a public record which isn't safe for you as an owner.
Can a Business Be Its Own Registered Agent in North Carolina?
No, you can choose an individual of your business, but not your business name. This means when filling up the Articles of Organization, you may write the address of your business location but the name should be of a real person or any member of your LLC and not your business's name. Here is also a guide to filing a North Carolina Articles of Organization.
What to Expect From Your Agent?
In a simple sense, a North Carolina registered agent will be the point of contact between your business and North Carolina SOS. They are responsible for handling any official paperwork sent by the state department and notifying the entity about it. Whoever you choose should have knowledge of compliance rules to support your business.
Here is what they can help you with:
Reminding you about due dates of annual reports and other business filings.
Keep your LLC in good standing to maintain limited liability protection.
Receiving service of process documents such as writs, court summons, trademark infringement notice, etc.
Timely notify businesses after receiving legal documents or notices.
Forward crucial documents immediately and follow up with owners regarding delivery.
The agent should also know how to maintain a North Carolina DBA in compliance (if you wish to have one).
Who Can Be My North Carolina Registered Agent?
Your North Carolina registered agent could be a single person or a professional service with expertise in that area. The individual could be anyone, your friend, family member, or someone associated with your business. Know that they should be available to receive documents during business hours.
Whoever you're willing to assign should be reliable and accurate. This is why professionals are better to meet all critical filings consistently.
Rules to Appoint a Registered Agent in North Carolina
The state of North Carolina has set some legal requirements for appointing a registered agent for your business. The following are the specific standards for appointing a single person or a professional service as your registered agent.
Appointing a Person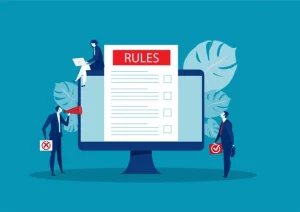 The person should be a resident of North Carolina.
The agent should have the street address of North Carolina.
He/she should be available to receive mailing documents at that address during regular business hours.
The physical address shouldn't be a P.O. Box or mailbox service.
The agent needs to personally receive and sign documents upon arrival.
Appointing an Organization
The above requirements also apply to the organization you're choosing for the job. But a professional registered agent service would be well aware of the above requirements. So apart from that, here is something you should look at while hiring a professional service.
The organization Should be a domestic company (corporation, LLC, or non-profit)
The firm physical address should be identical to the registered office.
If it's a foreign entity, then it should also be authorized to conduct business in North Carolina.
The entity should have an active status on the North Carolina SOS business search page.
How to Appoint a Registered Agent in North Carolina?
There are no additional documents for appointing an agent. You'll have to choose your North Carolina registered agent when completing your LLC/Corporation's formation documents. You will need the Articles of Organization if you are an LLC and the Articles of Incorporation if you are a corporation.
Online Registration – You may easily register your LLC or Corporation online on the SOS website. You'll have to submit an online filing fee of $125 to form an LLC or Corporation.
Mail-in Registration – To submit the form by mail, go to the North Carolina Secretary of State. There are various forms available for corporations, non-profits, LLC, LP, etc. Submit the form B-01 (for a corporation) or form L-01 for an LLC. Both require a filing fee of $125.
Note – The North Carolina SOS may take a week or two to process your documents. You may also choose expedited filing which costs an additional $100 for one-day filing and $200 for same-day filing.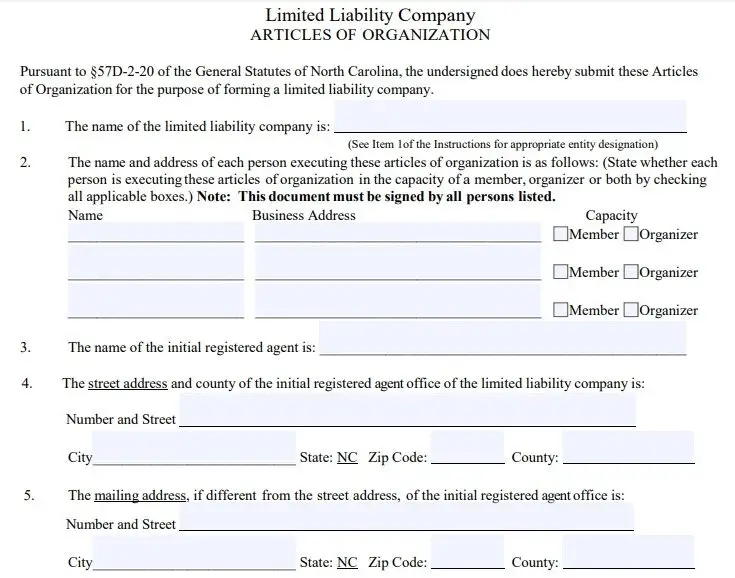 How to Get a Free Registered Agent in North Carolina?
A professional registered agent makes certain that any crucial notices don't remain unnoticed during your vacations, business trips, meetings, and personal emergencies. On average, a North Carolina registered agent may cost you around $50 to $300 per year.
But there is a way to avoid paying separately for a registered agent.
How Does It Work?
Get in touch with a business organizer service to form your LLC. Besides helping you register your business in North Carolina, they also provide various helpful services including a free registered agent. So besides making your LLC formation easy, they'll make sure that the business is in compliance with the state law and legal paperwork is in the right hands. If you need any help, here is our guide to explain how you could get started with your North Carolina LLC.