A registered agent is an individual/organization officially designated on a company's formation documents. A Colorado registered agent communicates with the state and handles official/legal paperwork for registered entities in the state. Our Colorado registered agent guide will explain the duties of an agent, its requirements, and how to appoint one in Colorado.
What is Colorado Registered Agent?
A Colorado registered agent will be a legal representative of your business to the state of Colorado. It is a person or company who receives official documents from the state and legal notices such as "service of process" in a lawsuit situation. Besides all of this, the agent also receives –
Litigation paperwork once the lawsuit is in progress.
Notice of legal garnishment against an employee.
Any legal notice from the Colorado state department.
Tax notification and annual report deadlines from the state.
Even though these documents aren't the same, they contain vital time-sensitive information that the owner should know immediately.
Why is it Mandatory to Have A Colorado Registered Agent?
A registered agent is mandatory for all entities on record with the Colorado Secretary of State. Matter of fact, you must list your registered agent during business formation. Otherwise, the state won't accept your formation documents.
Besides, Colorado law requires you to maintain a registered agent at all times. Not doing so may risk your business in the following ways.
If you don't have a registered agent to receive the summons when you're sued, you'll fail to respond on time. The plaintiff will proceed with the lawsuit without you knowing. This will work against you during court proceedings.
Your business may easily lose its good standing status. In this case, you'll face problems to expand expansion to other states and getting the loans you need to expand your business.
Your business status will be changed to delinquent in state records and you may personally face fines for noncompliance.
Note: To change the agent information in state records, you'll have to file the change of registered agent form with the Colorado SOS.
Can I Be My Own Registered Agent In Colorado?
Yes! any business owner can appoint themselves as a registered agent for their business. The only requirement is that you should be above the age of 18 with residence in Colorado. Being an agent for your own business also comes with some drawbacks.
Drawbacks of being an agent for your own business:
You have to be available to physically receive documents during normal business hours.
You'll still have to assign a different agent to expand your business out of state. This is because an agent has to be a resident of the state where the business is being formed.
As an agent, the address you'll provide to the state will be available in public records. This brings in a serious privacy concern.
If your business address is the agent's address, you'll have to face the embarrassment of receiving legal notices in front of your customers or employees.
Can I Choose My Business To Be its Own Registered Agent?
There aren't many states who allow this, but the Colorado law does actually permits an entity to serve as its own registered agent. All you need is a usual business location in Colorado that you're okay with being public.
What Should I Expect From My Agent?
 A registered agent is an individual or a company that is your official point of contact in the state to receive service of process, legal and state documents, and relay these communications to your business.
Who Can Be My Colorado Registered Agent?
In Colorado, you can hire any individual or a company as your registered agent as long as it complies with the rules mentioned in the below section. As an owner, you may choose yourself, a friend, family, or an officer/principal of your business. The best option is to hire a professional registered agent service that operates in all major states.
Rules To Appoint A Registered Agent In Colorado
Whoever you appoint as your agent, an individual or entity, you must know the following legal requirements for a Colorado registered agent.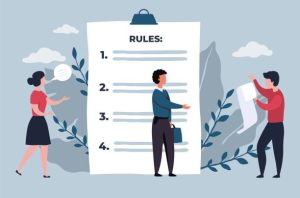 If it's an individual, then he/she should be more than 18 years old and should live in Colorado.
If it's an entity, (yours or another), then you must have a physical business location.
Foreign entities in Colorado should have the authority to conduct business in the state.
You can only have 1 person/entity as a registered agent for your Colorado business.
You cannot appoint the Colorado Secretary of State as your registered agent.
How To Appoint A Registered Agent In Colorado?
You'll have to select your Colorado registered agent when submitting the business formation documents. These will be the "Articles of Organization" (for LLCs) or Articles of Incorporation (for corporations).
Online Registration
Online registration will require you to file Articles of Organization (for LLC) or Articles of Incorporation (for a corporation). Both will need a $50 filing fee and has a section where you'll have to provide necessary information about your registered agent. Complete the form and submit it online.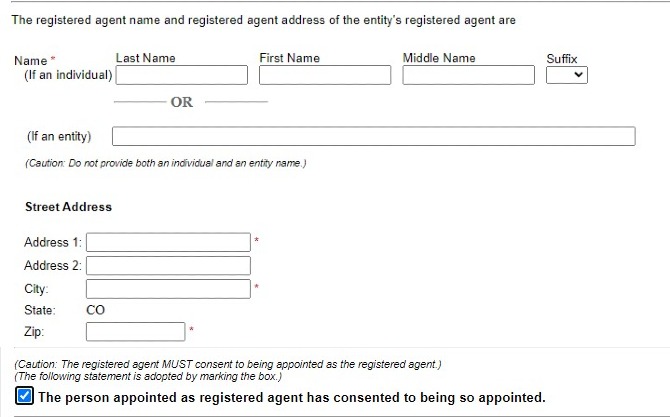 Do I Need a Consent Of My CO Registered Agent?
Yes! whether it's your friend or a professional registered agent service in the state, you'll need their consent. The agent must consent to be your registered agent by checking the box of consent on the formation documents (check the above image). Without consent, the agent will not be obliged to serve your business.
How to Get A Free Registered Agent In CO?
A registered agent in Colorado can cost you anywhere from around $50 to $290 per year. However, you may easily avoid this cost if you're forming a new business in the state.
How Does It Work?
You may appoint business organizers in Colorado to officially form your business. Besides handling your business registration with the Colorado Secretary of State, they'll also include a free registered agent service for your business. You'll have to pay the application filing fees as per your business structure (LLC, corporation, coop, limited partnership, etc.) and a small service charge.