If you want to run a successful business in Virginia then having a registered agent can reduce a lot of work from your shoulder. A Virginia registered agent helps you stay in compliance with the state laws by receiving official paperwork from the state of Virginia. Our Virginia registered agent guide will help you understand what a registered agent does, how to appoint one, and its requirements in Virginia.
What is a Virginia Registered Agent?
A Virginia registered agent is an individual/organization that acts as a point of contact for your business. – An agent is responsible for –
Handling annual fee notices and maintaining a certificate of good standing for your business.
Communicating effectively with the state of Virginia by receiving official/legal paperwork – such as service of process during lawsuits.
You may think of a registered agent as your official business representative to the state. Every formal entity in Virginia (like Corporation, LLC, etc.) is lawfully required to have and maintain a registered agent throughout its existence.
Why is it Mandatory to Assign a Virginia Registered Agent?
Virginia law requires every business to have and maintain a registered agent at all times. Failing to maintain an agent will harm your company's good standing and you might not be able to secure loans or take legal action to protect your business. In case your Virginia agent officially resigns from the duty, you'll get 31 days to appoint a new registered agent in the state.
If you fail to appoint an event within this deadline then there will be the following repercussions.
You'll get a notification stating that "your business status has been changed to pending inactive in public records."
To resolve this issue, you'll have to appoint an agent before the last day of the second month after receiving the notification

.

If you still fail, your Virginia business status will automatically change to canceled, revoked, or terminated

.
Can I Be My Own Registered Agent In Virginia?
As an owner, you can choose to be your own registered agent. Note that you should be over the age of 18 with a street address in Virginia. However, appointing yourself as the agent might not be desirable because of the following reasons.
Risks of being your own Agent –
You must be present at a physical location in Virginia during normal business hours.
You are limiting yourself to conducting business in Florida only.
During business expansion in other states, you'll have a limitation of handling your business filings in Virginia only. This is because the agent should be a resident in the state where the business formation takes place.
You could face serious privacy issues as a registered agent's address is easily available in public records on the Virginia SOS website.
Can I Choose My Company As A Registered Agent In Virginia?
The Virginia business rules don't allow any business entity to be its own registered agent. You are free to appoint any individual or company that specializes in this field. Additionally, you may also elect yourself or a principal/employee of your business.
What Should You Expect From Your Agent?
Regardless of whether you hire a company or one of your relatives for the job of a Virginia registered agent, make sure that they are capable of the following things.
Reliability, data security, timely notifications
The agent should be present at the registered office (address provided in the formation documents) to receive mail during normal business hours.
Receive and secure official documents and service of process during lawsuits.
The agent must provide timely notifications after receiving any document or heads-up from the state of Virginia.
Send you legal documents promptly.
Who Can Be My Virginia Registered Agent?
You can appoint any individual or organization in the state as your registered agent. As an individual, it could be you, a principal/employee of your business, your trusted friend, or a family member. The most reliable option is to appoint a person or organization that specializes in this field. Regardless of who it is, your agent should abide by the rules set by Virginia law.
What Are the Rules To Appoint a Virginia Registered Agent?
The Virginia Corporation Commission has set some legal standards to appoint a registered agent. These rules apply to all types of businesses, including LLCs and corporations.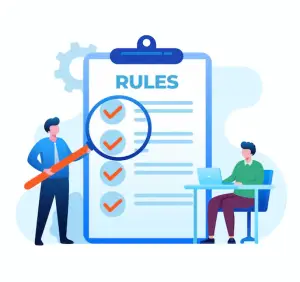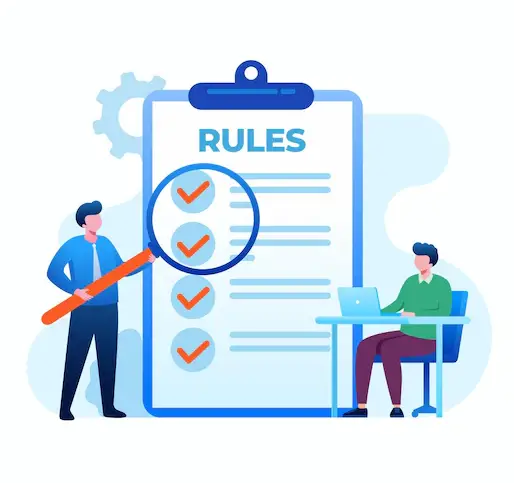 Your selected individual should be a resident of Virginia.

The individual should have a physical address in Virginia known as a registered office.
A Post Office Box or Mailbox service isn't acceptable as a registered office.
The agent has to be physically present to receive and sign documents during normal business hours.
The agent's name and accurate street address have to be part of the public record.
Note: PO Boxes can only be a registered office address for cities/towns with a population below 2000 where the location cannot have a street address.
Registered Agent Qualification
Aside from the above requirements, the agent must meet one of the following qualifications. The agent should be –
A Virginia State Bar Member
A Business Entity's Management Member. Examples include –

Officer/director of a corporation
A member/manager of an LLC
A trustee of a business trust
A general partner of a limited partnership
A partner of a registered limited liability partnership
How To Appoint a Registered Agent in Virginia?
In Virginia, you'll have to give your registered agent detail while filing the Corporation/LLC formation documents. For an LLC, this will be your "Articles of Organization" and For a corporation, the document is "Articles of Incorporation".
Online Registration
To form your LLC/corporation online, you'll have to create an account on the Virginia State Corporation Commission website. Then visit the Virginia business filing page to initiate your online registration. (the filing fee is $100 for an LLC & $25 for a Corporation).
Registration By Mail
You may download the form, Articles of Organization to form your LLC ($100 filing fee), or Articles of Incorporation to form your corporation ($25 filing fee). Both contain a portion for registered agent information. Fill out the form and mail it to the following address. –

Secretary of State
New Filings Division
202 North Carson Street
Carson City NV 89701-4201
Phone: 775-684-5708
Fax: 775-684-7138
Do I Need A Consent of My Virginia Registered Agent?
Yes! a registered agent in Virginia must consent to the designation of your official registered agent. Both LLC and Corporation formation documents consist of a portion called "Registered Agent Acceptance Certificate". Your agent or you (if the agent permits) have to complete the form with the agent's signature. This will be your official proof that the agent will serve your business. An agent without consent is not legally bound to serve your business.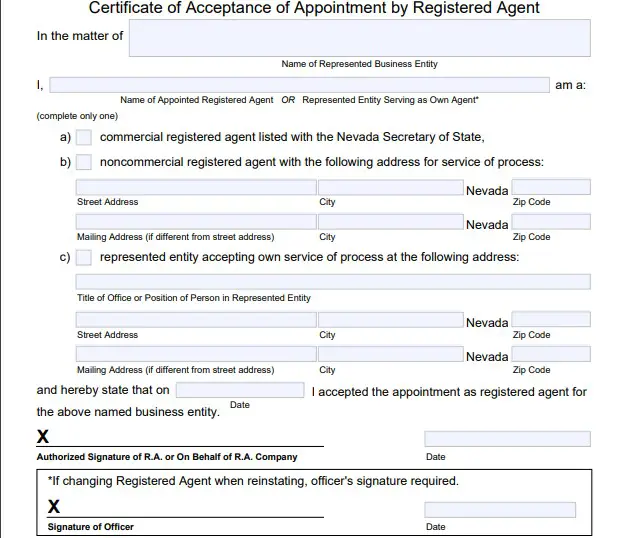 How to Get a Free Virginia Registered Agent?
A registered agent in Virginia goes anywhere around $50 to $300 per year. However, if you are forming a new LLC or Corporation, then you may easily avoid this cost.
How Does it Work?
You can hire a professional business organizer in Virginia to form your corporation or LLC. Besides helping you with business registration with the state of Virginia, they will also appoint a free registered agent for your business. You'll only have to pay the application filing fees for your corporation or LLC plus a small service charge.