Foot Locker is an established fashion retailer; with some of the best deals on shoes and wearables from popular brands. They also have a Foot Locker military discount policy for shoppers coming from a military background.
This guide has every detail about eligible members and qualifying items for military discounts at Foot Locker. Let's get started.
Foot Locker Military Discount Policy
With the Foot Locker military discount, verified military members can get 10% off for qualifying items. The discount can be used 4 times per 30-day basis and you can get a $100 maximum discount during each transaction.
Know that stores may exclude certain products based on availability. And you cannot use this discount with other ongoing offers.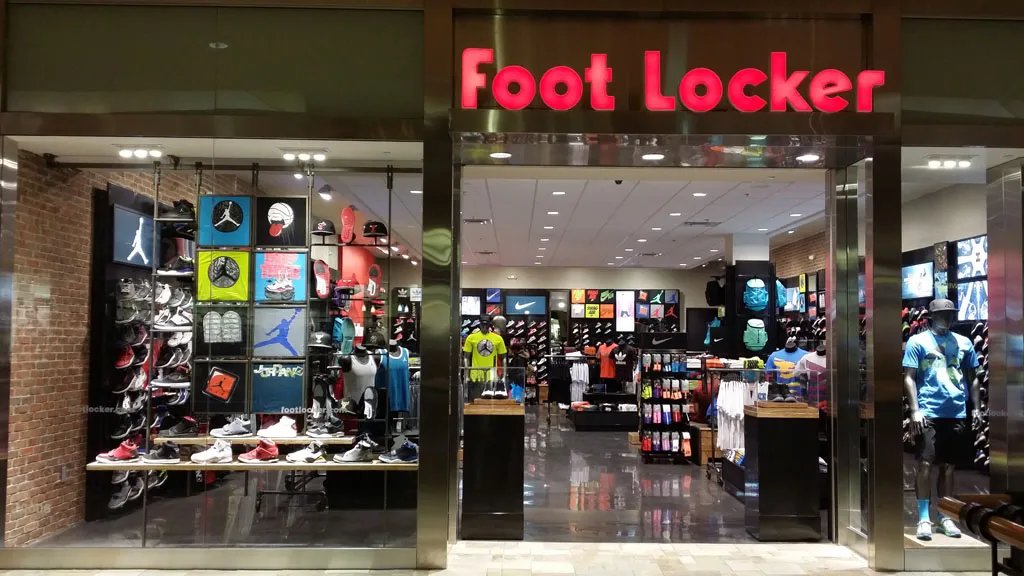 Foot Locker Military Discount

Discount Rate

10%

Where to Claim?

Online & In-store

Limitation

4 times on a rolling 30-day basis

Contact Number

1-800-991-6815

Official Website

Foot Locker
Who is Eligible for the Military Discount?
Almost all military personnel are eligible for the Foot Locker veterans discount and military discount. This includes active duty as well as retired individuals (along with their registered dependents). Besides that war veterans, national guards, and reservists also qualify for this benefit at Foot Locker.
But first, you must verify your eligibility online to claim this discount. Here's how to do so.
How To Register For Your Military Discount?
There are just a few steps to verify your eligibility for the Foot Locker military discount. Foot Locker uses a third-party verification called SheerID through which you can prove your military status. You just need to complete a few steps.
Log in to your Foot Locker account.
Open the Payment section and select "military discount".
Fill in the required info.
Upload your government-issued documentation that has,

Your full name
Branch of your service
And… current military status.
Your documents will be verified by SheerID, and you'll receive an email of approval within in around 20 minutes. And you're done!
How to Use Your Discount for Online Purchases?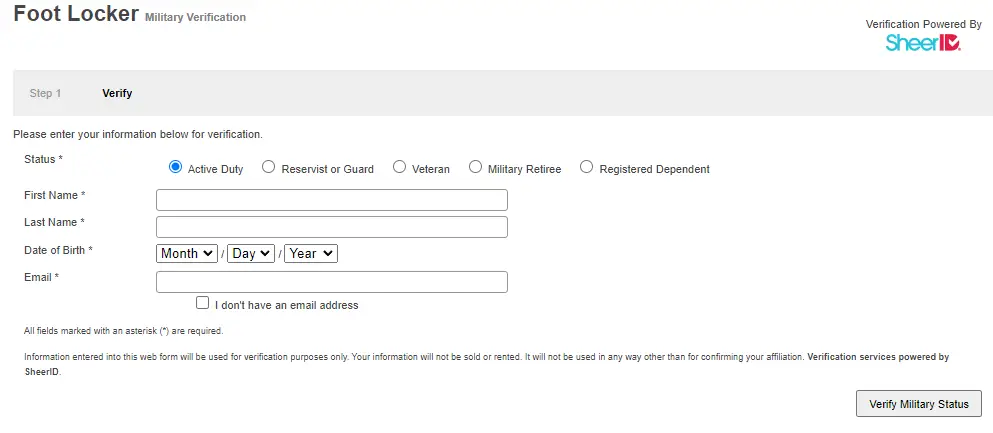 You can easily claim your military discount online after your successful verification on SheerID. Fill up your cart and tick the "military discount" box shown on the checkout menu. The 10% discount will be added to the total of eligible items. You may use your card or wallet to pay for the total.
How to Shop In-Store with the Discount?
When shopping at your nearest Foot Locker store, you just have to show your valid military ID during checkout. If you aren't sure if a specific item qualifies or not, ask the cashier or any store associate.
Can I Use the Discount At Kids Footlocker?
Of course. You may also purchase for your child from Kids Footlocker using your military ID. In fact, you may use your SheerID at any Foot Locker sister stores. Here are some popular ones.
Kids Foot Locker
Lady Foot Locker
Champs Sports
Footaction
Sidestep
Ineligible Items For Military Discount
The Foot Locker military discount is applicable to most regular-priced items. So you wouldn't be able to use this discount with other offers. Note that store-wise exclusions (due to availability or other issues) will apply to certain items. So if you're unsure, do confirm with a store executive.
Frequently Asked Questions
1. What if I have already made my purchase?
Once the payment is done, there is no going back. Foot Locker won't offer a military discount for previous purchases.
2. Can I use the discount with other offers?
No. The military discount cannot be combined with items that are already on an offer.
3. Is my family eligible for the discount?
Of course. Whether you're an active-duty or a retiree, your registered dependents can get 10% off, both online and in-store.
4. Can I use the discount multiple times?
No. Foot Locker allows 4 SheerID verifications every 30 days. And the maximum discount is $100 per verification.
What Other Stores Offer Military Discounts?
Full Locker keeps various styles from Nike, Adidas, New Balance, and many more. But if Foot Locker doesn't have your favorite branded shoes, then the only option is to buy from the brand itself. So we recommend you check out the military discount policy of the following footwear brands.
To Conclude,
The Foot Locker military discount can give you 10% off on most regular-priced items. You just have to show your Military ID at the in-store cash counter. For online orders, get yourself verified through SheerID and you'll be good to go.