Wondering what kind of benefits Marriott hotels offer to those serving the U.S. nation? This guide has everything about the Marriott military discount to help you save on your next hotel stay; including qualifying personnel, booking, and check-in requirements.
Marriott Military Discount Policy
Marriott military discount offers special pricing to military and government personnel. The exact military and government rates may vary (from 10% to 40% or even more) based on the date, hotel location, and room availability.
So if there are multiple Marriott-owned hotels around the area of your stay, check the pricing at all of them to get the best deal.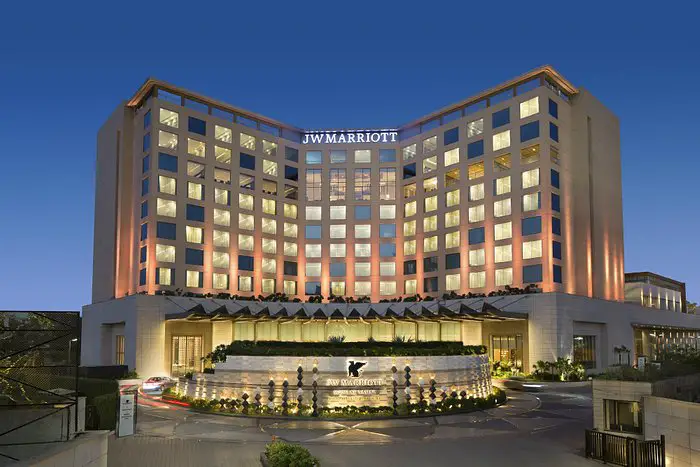 Marriott Military Discount

Discount Rate

Varies based on date, location &
room availability

Qualified Personnel

Active-Duty military, Veterans, &
Government employees

How to Claim?

Online Booking

Contact Number

Marriot customer care

Official Website

Marriott
Who is Eligible for Military/Government Rates?
The Marriott military discount is available for all active-duty military members, veterans, and government personnel. If you've booked as one of these then you must also present your active-duty Military/Government ID during check-in.
To know how much you would save, click on "View Rates" for your desired hotels at the time of booking.
How to Book/View Military Rates Online?
When booking with Marriott online, you can check discounted Military rates for your favorite destinations in a few easy steps. Just do the following.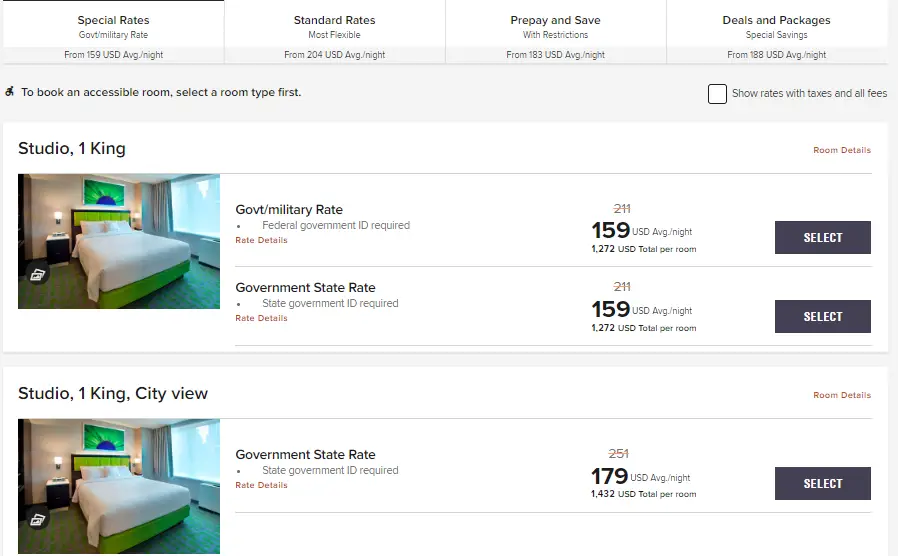 On their hotel booking page, provide your destination, and check-in/check-out dates.
From the Special Rates dropdown, select "Government and MIlitary".
Adjust the Rooms/Guests requirements and click "Find Hotels".
You'll be presented with different hotels and their Per Night military rates. Some hotels may not show rates and their pricing may vary based on room availability.
Hit "View Rates" on any hotel and it'll show you the difference between its standard & military rates.
Select a room with your desired facilities to start the booking.
How to Claim a Discount as a Veteran?
Marriott also offers special hotel rates to military veterans. And to find out available offers, go to this page. Enter your destination and dates (you may leave both empty) and directly hit Find Offers.
Now, enter "Veterans" in the Keyword field and hit "Find Offers".
You'll see the ongoing deals and seasonal packages for Veterans and active military.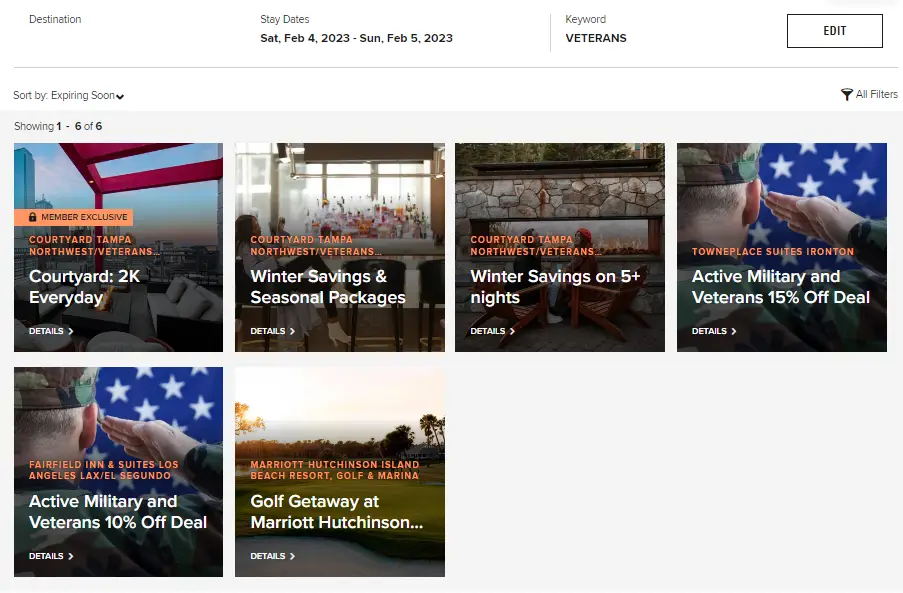 What are the Restrictions?
The Marriott military discount is not available to dependents of active-duty members or retired military personnel. The rate changes based on dates, hotel locations, and room availability. Though the discount is available internationally, only limited rooms may be available.
Frequently Asked Questions
1. What information do Marrior require for military booking?
You'll have to show a Federal government ID or Military ID at the time of check-in. You may also show your Military travel orders or your Common Access Card for military travel.
2. Can military dependents save on hotel bookings?
No, military dependents are not eligible for special discounts when booking with Marriott.
3. Are all military personnel eligible for the discount?
No, Marriott offers special rates to active-duty and veterans of the U.S. military.
4. How much will I save with military and government rates?
There is no specific number. The discount rate varies based on the location and your selected date.
Other Alternatives for Military Discounts
Just like Marriott, there are many other travel and hotel businesses that offer special discounts to military personnel. If you're traveling on military orders or for personal reasons, check out the following military discount policies.
Conclusion

The Marriott military discount will give you special Military rates on your desired hotel bookings. We have explained how to find hotels and book a room that has the best Military pricing and facilities.
If you have any queries about military rates at a specific hotel, then contact the hotel directly through their help page.