Most of us use Microsoft office products in our daily work routines. And eligible U.S. professionals are offered great discounts on many products and services. This article explains how you can benefit from the Microsoft military discount and the Workplace Discount Program for Microsoft 365.
Microsoft Military Discount Policy
The Microsoft military discount enables current and former members of the U.S. Armed Forces to save 10% on select products and services. This would allow eligible members to save on laptops, tablets, virtual reality, surface products, and many more.
For details regarding qualifying members, 365 benefits, and the registration process, keep on reading.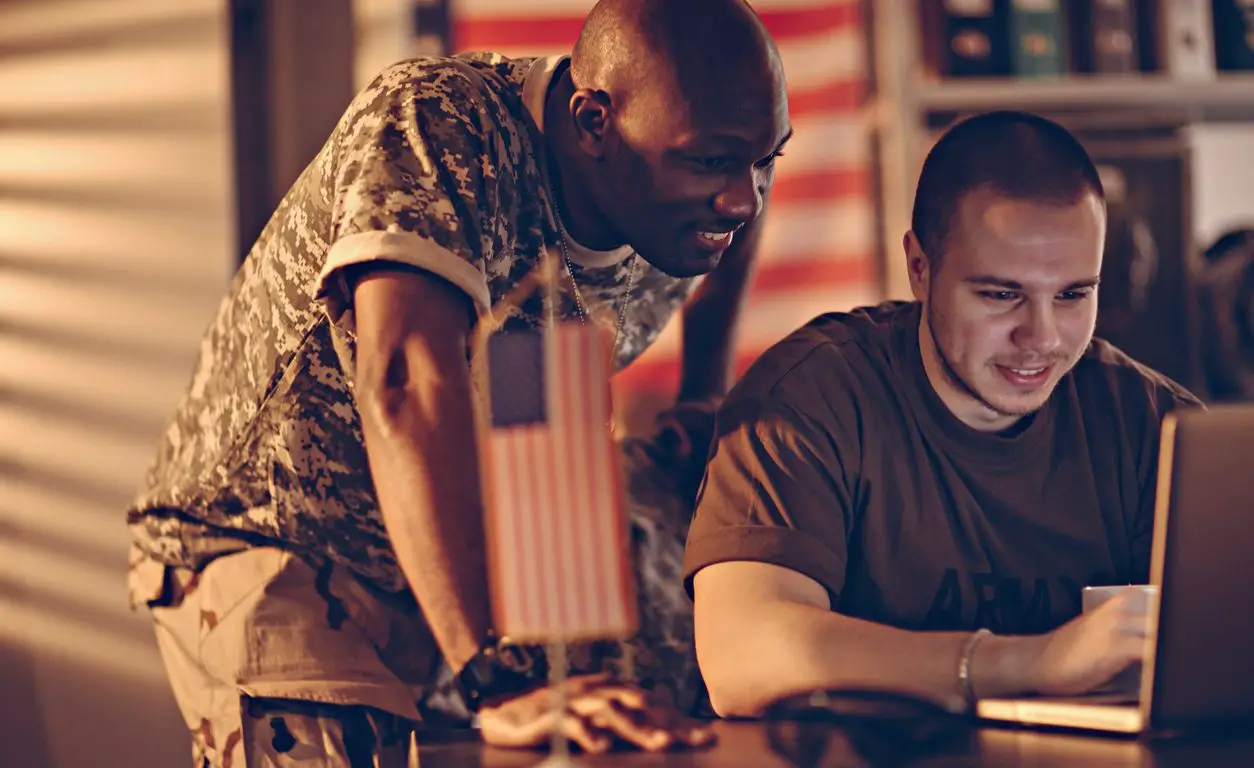 Microsoft Military Discount

Discount on Microsoft 365

30%

Discount on other items

10%

Where to Claim?

Online & In-store

How to Contact

Online Support

Official Website

Microsoft
Who Can Benefit From Microsoft Military Discount?
The 10% military discount can be used by anyone who has or currently serving in the U.S. military. This includes all individuals and family members of active-duty personnel, veterans, retired members, reservists, as well as National Guard military members.
How to Claim the Military Discount?
To claim your discount, open the Microsoft Store and click shop now on the Military discount page. All qualifying items have a special pricing note for students, teachers, parents, and the military. Click on check your eligibility to prove your Military status.
You'll be presented with a "Congratulations screen" upon successful verification. At this point, you just have to add products to your cart and check out with your 10% discount.
Note: There are no special coupons or codes to use this discount. Just open your account and confirm that you're eligible.
Microsoft 365 Military Discount 
Microsoft office military discount offers a whopping 30% military discount on Office 365's Home and Personal subscriptions. Normally, users have to pay $99 every year. But if you are an active Military member (currently serving & reservist), then you would only have to pay $69/year under Microsoft's Workplace Discount Program.

This 365 package is compatible with Windows 10, ios, Mac, and Android. It would also include the entire office collection with the following features.
Sharing your account with 6 family members (beneficial for school kids)
OneDrive cloud storage of 1 TB per user (up to 6 terabytes in total)
Full versions of Word, Excel, Outlook, OneNote, and PowerPoint.
Are Army Veterans Eligible for Office 365 Discount?
The Microsoft 365 military discount is only limited to active military members. Former military members and retired individuals are not eligible to make use of this offer.
However, Microsoft's WDP is actually a special licensing arrangement between Microsoft and other organizations. So if you're still working, we recommend you check with your current organization.
Can I Still Get 10% Off If I Don't Qualify?
The Microsoft military discount is valid for both active duty and former military personnel. So yes, you may still receive a 10% discount on Office 365 subscription even if you are no longer serving in the military.
How to Get Microsoft Office Military Discount?
To get your 30% Military discount on Office 365 purchase, you simply have to register for the Workplace Discount Program. Just do the following.

Enter your Military email on the WDP page. (@us.army.mil, @navy.mil, @mail.mili, or your deployed Military email).
They'll verify your eligibility and send you a verification email.
Forward it to your personal Microsoft email to link for savings.
Click the link in from your personal email and It will take you to the discounted checkout page.
Select the version and checkout.
For any queries and issues with Workplace Discount Program, you can contact their support team.
Ineligible Products & Services for the Discount
Qualified products and services under the Microsoft military discount always have a "Special Discount" note at the bottom of the page. So if a product is not on their Special Devices page, then it is most probably not eligible for the discount.
You also cannot combine this discount with other offers. Microsoft usually doesn't offer military discounts on the following items both online and in-store.
Digital games, apps, in-app content and subscriptions, movies, and TV shows
Gift cards, Skype, Xbox Live, and other similar services/subscriptions
Personalized products and services
Xbox consoles, games, and accessories
Frequently Asked Questions
1. Can my family also use the discount?
Yes, the 10% discount can be used by family members of active and former military personnel.
2. Do Xbox products have a military discount?
No, you cannot get military discounts for Xbox products unless you get them at AAFES or NEX exchanges on military bases.
3. Do I need a special coupon to claim the discount?
Microsoft doesn't provide any special coupons or codes for military discounts. You just have to confirm your eligibility on the Microsoft account.
4. How to find the best devices/services for Microsoft military discount?
If you're not sure what would be the best deal for military discounts, we suggest asking an in-store executive or online agent.
Other Stores that Offer Military Discounts
If you are not able to claim military discounts at Microsoft, then we have other helpful guides to make your purchase decisions easy. Find out whether the following retailers offer discounts to Military members and veterans.
To Conclude,
Microsoft military discount could save you anywhere from 10% to 30% on eligible Microsoft products and services. We have covered eligible members and effective steps to save on laptops, surface products, VR items, and office 365.
For any queries, we recommend you contact Microsoft support directly.