Planning to form a new business in Nebraska? The first step toward forming an LLC or a Corporation is choosing your business name. You can perform the search by visiting the Nebraska Secretary of State. The Nebraska SOS has set certain naming guidelines which must be followed while naming your business. We will guide you in detail on how you can perform the Nebraska Business Entity Search.
Why Do Nebraska Business Entity Search?
Your chosen business name must not be the same as an existing one. Thus it is important to perform the Nebraska name search. You can visit the Nebraska SOS website to perform the Nebraska Business Entity Search. The search result generated will help you know whether your desired business name is already in use or not. You may also find similar names as yours. A valid yet unique name is very vital while forming a business as a previously used name may cancel your Nebraska LLC/Corporation formation.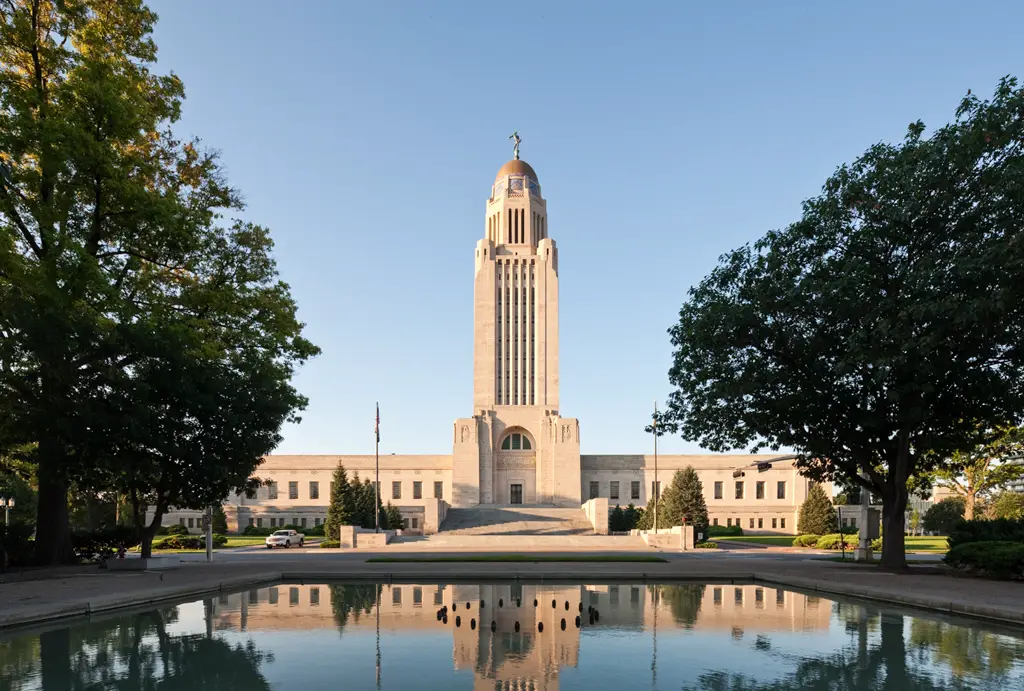 Nebraska LLC Naming Guidelines
There are certain naming guidelines to follow before you do the Nebraska LLC search. The guidelines set by Nebraska SOS are mentioned below-
Your name must be a unique one and not very similar to any registered or reserved business name.

Should have the term "LLC", "Limited Liability Company" or "Limited Company" at the end.

Your chosen name must not contain any restricted terms like "finance" or "bank".

The business name must avoid any offensive or Indecent words that target any caste, creed or gender.
Nebraska Corporation Naming Guidelines
The naming guidelines of an LLC are quite similar to that of a Corporation. However, your Nebraska corporation search must comply with the following guidelines.
Your desired corporation name must be distinguishable from any existing corporation.

Should contain either of the words like "corporation", "company" or "corp".

Your business name must refrain from using words that are restricted like, "education", "finance" etc.

Using obscene or indecent words is strictly prohibited.
Nebraska Business Entity Search Method
To perform the business entity search, you need to visit the Nebraska SOS website. The Nebraska SOS allows you to perform your search in multiple ways. However, to check the name availability and get confirmation it is a must that you submit a written request to the Secretary of State's office by e-mail at [email protected]. The Nebraska SOS allows you to search in multiple search options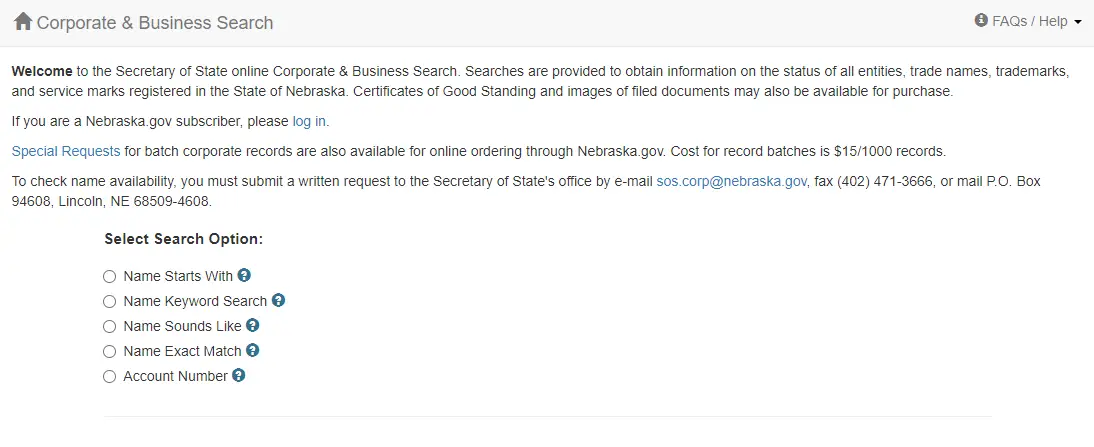 Name Starts With

The Name Keyword Search
Name Sounds Like
Name Exact Match
Account Number
Nebraska Business Entity Search Process
The Nebraska LLC or Corporation Search can be done by visiting the Nebraska SOS website. Now that you are aware of the naming guidelines of Nebraska corporation search or Nebraska LLC Search, you can easily follow the name search process to register your chosen business name.
1. List out your Desired Name:  You must choose an appropriate name that suits your business name and complies with the Nebraska Naming guidelines.
2. Perform a Business Search: Once you have chosen a business name for your LLC or Corporation, you can do the LLC/corporation name search. You can visit the Nebraska SOS website and use the business name search tool.
3. Analyse the search page result: Once the search results are generated, you can check the names according to the filter used. If similar names appear on the screen but are not the same then you can request Nebraska to permit you to use the name.
4. Reserve your LLC/Corporation name (Optional): If you have found your chosen name available, then you can definitely reserve the name. You can do it on the Nebraska SOS Website for 120 days by paying a filing fee of $30.
5. Register your business with Nebraska SOS: If you are sure about your desired name, then it is best that move ahead with registering your business with the Nebraska Secretary of State website.
Other Considerations Before Choosing a Name
Business names are used for years to come. Thus apart from the naming guidelines, some important considerations need to be remembered as well.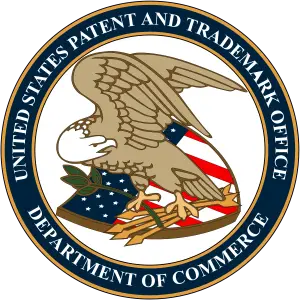 Trademark Search: A trademark search helps you to know whether your chosen name can be used if you plan to use your name in the future to expand your business.
Domain Name Search: You must have the same domain and business name. This helps your consumers to remember and find you on the digital platform easily.
Social Media Name Search: Social Media plays an important role in advertising your business. Thus you must conduct a Social Media Name Search as well. If you find a brand with the same name then you can modify your existing name.
Frequently Asked Questions
1. What's the cost of reserving a business name in Nebraska?
A business name reservation in Nebraska costs a filing fee of $30. This will secure your name for 120 days.
2. Is it necessary to register a trading name in Nebraska?
If you're running a business in Nebraska with a name that's different than your legal business name you'll have to register a trading name (DBA name) with the Nebraska secretary of state.
3. How do I check for business name availability in Nebraska?
Contacting the Nebraska secretary of state at 402-471-2554 is the most reliable option to check for name availability. If you have a few names in mind, then you can also do an online name search on the Nebraska SOS business search page.
4. Will I need to renew my LLC or Corporation every year??
Yes, Nebraska SOS states that every LLC or Corporation must renew their business annually.
Conclusion
We hope, in this article, we were able to give you a complete guideline on how you can form a new LLC or Corporation in  Nebraska. Your business name plays an important role in expanding your business in the future. Thus, performing the Nebraska Business Entity Search is very important as it helps in choosing a name that is not unique but also resembles your business.