When the company doesn't want to use its legal name for doing business they use a fictitious name. Generally, LLCs or corporations file for North Carolina DBA when they looking to change the nature of their business or expand their business into a different industry. Our guide here will help you to know how you can file your DBA easily in no time.
What Does North Carolina DBA Mean?
DBA is an alternative name that a company uses to conduct its operation. It is also known as a trading name, fictitious name, or an assumed name. Businesses use North Carolina DBA when they want to expand a business into another industry or rebrand the company. For example, one of the most popular beverage companies, The Coca-Cola Company is using DBA names like Fanta, Coke, Sprite, etc.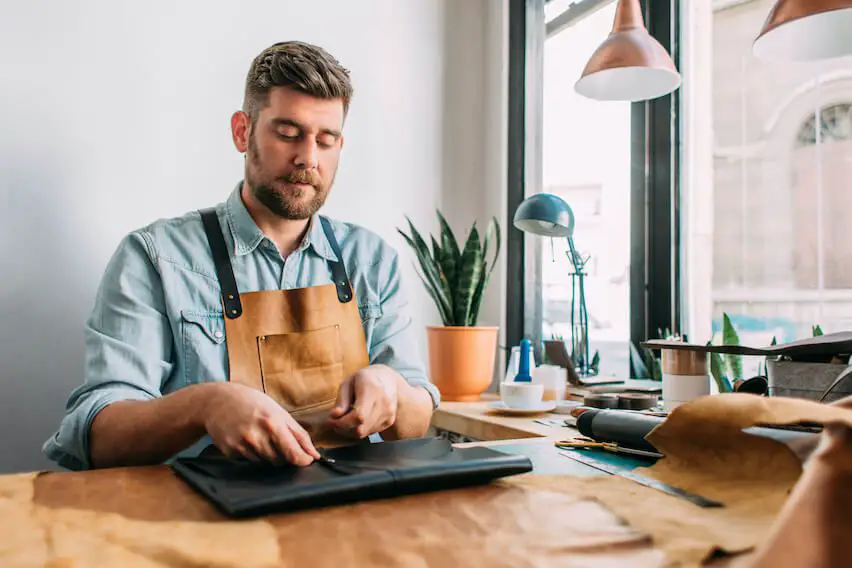 Is DBA Mandatory in North Carolina?
 The DBA name is not mandatory but most North Carolina LLCs use it when they want to spin off a new product line. The main purpose of getting a DBA is to create a new brand or store under a different name without forming a new company. It is also used when the legal name is not correspondent to their business.
If you wish to get a North Carolina DBA name for a business that is not registered, you will be considered a sole proprietor. Whatever the type of business, you need to file the Assumed business name certificate to the local county to register its assumed name.
Consideration While Filing DBA
The state law imposes some requirements before filing for DBA. Focus on the following points when applying for a DBA in North Carolina.
Choose a unique DBA name for your business by doing NC assumed name search.

Consider using an appropriate assumed name that represents your business.

Your business must be in good standing.

Provide the legal name and address of your business.
Pay to the County Register of Deeds by checks or money orders.
How to File a DBA In North Carolina?
It is mandatory to register the North Carolina assumed name if you want to use it legally. Whichever type of business you have in the state, either a sole proprietor, partnership, corporation or LLC you have to submit the assumed business name certificate at the register of deeds in the county. The process is described in 2 steps.
Step 1: North Carolina Assumed Name Search
You have to start with an assumed name search. The North Carolina DBA name should be unique and appropriate which must fulfill North Carolina's business name requirements. To check the availability of the name you need to perform a North Carolina business entity search. If the business is a sole proprietorship or partnership you have to check the database of the Register of Deeds Office.
Requirements for North Carolina Assume name search.
Yo

u'll need special permission to assign

words such as a bank, engineer, drug, wholesale, insurance, etc.

Do not use misleading, fraudulent, or confusing names.

The company name shouldn't imply any immoral or illegal intent.
DBA names cannot be distinguished by articles, symbols, or upper-lowercase letters.
To understand more information regarding naming guidelines you can check the Feasibility of Name.
Step 2: File the DBA at the SOS or County Clerk
In North Carolina, a single filing may select numerous counties for the purpose of doing business. All the counties follow the same rules and registration form. You need to submit the assumed business name certificate to the county where you want to do business. Check out the sample DBA filing procedure for Durham County.
How To File DBA at Durham County?
You should first check DBA name availability on the Durham county assumed name database. Once you find your desired unique North Carolina DBA, fill out the form and submit it to the Register of Deeds office by mail or in person. With one certificate you can register up to 5 assumed business names. Unlike other states, North Carolina SOS doesn't require notarizing the form.
Note: If you face any confusion you can visit the official county website or contact your local county office to get a better idea of DBA registration.
How Much Does It Cost to File North Carolina DBA?
The North Carolina Secretary of State and a county may charge different amounts for DBAs. Depending upon the business type you have to submit the form either at the county or North Carolina SOS. Most of the counties in North Carolina charge a $26 fee. However, for the most up-to-date cost information for DBA/assumed name registration, see the Secretary of State's website in North Carolina or the website of the respective local county.
Can I Update DBA Information?
Yes, even after registering, you can change some parts of the information listed in the DBA application. For that, submit an Amendment of ABN Certificate to the register of the deeds office within 60 days of filing for DBA. This will cost you around $26. You can also update after 60 days by paying $26 as an extra charge.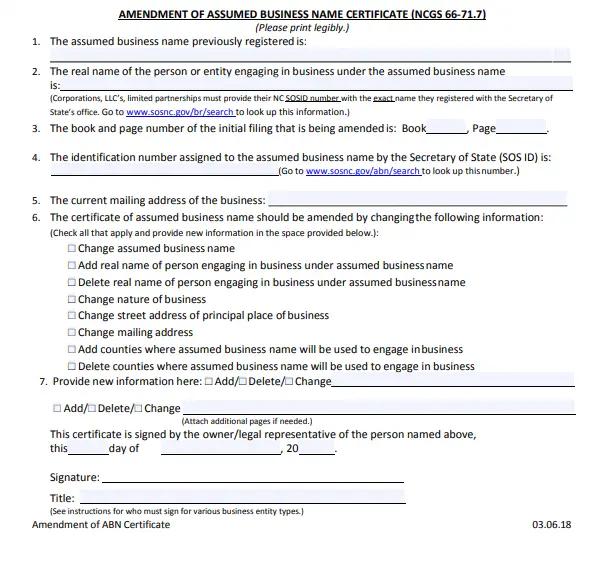 Do I Have to Renew my North Carolina DBA?
Contrary to other states, North Carolina DBAs never expire. Once the Register of Deeds office approves your DBA, it is tied to your business until its withdrawal. So, you don't need to renew it.
Note: The forms submitted before 1 Dec 2017 are going to expire on 1 DEC, 2022. They need to renew by submitting the form again. 
I Don't Need my DBA Anymore, What Should I Do?
If you don't want to use your DBA name anymore, the County office allows you to withdraw your assumed business name certificate anytime. For that, you have to complete and submit the Withdrawal of Assumed Business Name certificate to the same county as the initial filing and any amendment. This filing for withdrawal will cost $26.
Frequently Asked Questions
1. How many DBAs you can have for one business?
One business may have as many DBAs as you want. However, in North Carolina, you can only register 5 assumed names with one certificate
2. Does DBA get EIN or Tax ID?
DBA is the alternate name for your business. It is not a business entity. So, it doesn't get a separate EIN number or Tax ID.
3. Will I require an LLC to register a DBA in North Carolina?
No. you don't need an LLC to set up an assumed name. By default, if you do not have a registered business, you will be considered a sole proprietorship.
4. Does North Carolina charge separate taxes for NC DBA?
No. North Carolina doesn't charge any extra tax for DBA. However, you have to pay your business taxes in time.
What's After Filing DBA?
There are a few factors to consider in order to increase the visibility of your North Carolina LLC and implement effective working techniques. After you have got your North Carolina DBA name you should consider opening a separate business bank account to manage finance and protect personal assets. Another important thing is to create a business website and buy insurance for your company.