An Ohio registered agent is someone who acts as a bridge between your business firm and the government. Having an agent is necessary if you want to run your business smoothly. But the main question is how do you find one? We have covered all the important points that you need to know on how to assign a registered agent and different requirements in this guide. 
What is Ohio Registered Agent?
An Ohio registered agent is a person who communicates between your firm and the government. He/She receives all the important documents and notices sent out by the government. Another way to say this is the agent which you appoint represents your business to the secretary of state. Your agent also keeps you fresh with the latest government notices and things that you should consider. Make sure to choose an agent who is trusted and handles essential documents carefully.
Why is Ohio Registered Agent Mandatory?
The registered agent necessity is not only required by Ohio state law, but it also has a practical purpose. It is mandatory to appoint a registered agent even if it's you or someone else. If the state wants to contact you and/or file legal paperwork. They can only do this if your registered agent maintains all your business records. You can face a court judgment and some serious legal consequences if your registered agent fails to receive or deliver your papers. It is critical to have a registered agent that you can depend on.
Can I Be My Own Registered Agent in Ohio?
As long as the individual that you appoint has a legal Ohio street address, and is over the age of 18 can serve as the company's registered agent. Just keep in mind that you have to match the Ohio registered agent regulations. But, many businesses prefer to use a registered agent service. Just keep in mind to match all the regulations that the State of Ohio has.
There are also a few risks of being your own agent:
You must be available during business hours.
Business expansion won't be possible.
To contact you, your address will be public.
What is Expected from the Registered Agent?
Having an Ohio registered agent can help you in these ways:
The agent you appoint will assist and handle all the legal work and other affairs.
Your agent will prompt you with your taxation, annual reports, and document filings.
Your business email will be handled by the agent.
The registered agent prepares and files all the legal work.
Registered agent shields your business name.
Who Can Be My Registered Agent?
You have all the commands over who can be your registered agent. You can appoint your friend, one of your family members, or someone else whom you trust. There is also an option where you can even choose a company as your registered agent. But what's important is that your registered agent needs to stick to the state laws.
Rules to Appoint Ohio Registered Agent
You should know all the terms and conditions before you appoint a registered agent. Your business will apply fines when you fail in their eligibility criteria. If you fail to meet their criteria you will be applicable penalties. We've listed out things to remember before choosing your Registered Agent.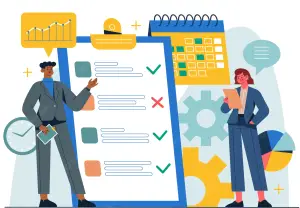 Appoint an individual who is a resident of Ohio.
Has an Ohio mailing and street address.
Your agent has to be above 18.
Your registered agent details must be included in the Article of Organization.
During business hours your agent should be physically present.
How to Appoint an Ohio Registered Agent?
While forming an LLC in Ohio, you need to appoint a registered agent. You also need to include that individual details in the Article of Organization.
1. Elect Registered Agent Online.
You have the option to appoint your Ohio Registered Agent online. When applying online you have to fill out a form (521) by visiting Ohio Business Central. There is also a $25 charge applied when you register an agent online.
2. Elect Registered Agent By Mail.
If you wish to fill out the form and submit it via mail, you need to download the Articles of Organization (Form – 533A). You can submit a physical copy of it after filling out all the appropriate details. A filing fee of $99 is necessary. On page 3 you can fill out your registered agent details. After the completion of all the steps, you need to mail it to the Ohio Secretary of State.
Mail Address: Ohio Secretary of State, P.O. Box 788, Columbus, OH 43216.

Do I Need the Consent of My Registered Agent?
To elect your registered agent you need to have their consent. For that, you can sign a formation document/Registered agent update form. Ohio registered agent permission is necessary. This consent letter states that the person you chose will work as the registered agent for you. You can fill out the consent form by going to the Ohio SOS website.
How Do I Get a Free Registered Agent?
The cost of the registered agent is usually $50 to $300. All this depends on the service that a particular registered agent offers. You need to spend this amount if you want your business to run smoothly. On the other hand, If you get a complete LLC service for your Ohio LLC, you might get a registered agent for free. This could be a great way to ensure your business formation is handled by professionals.
Frequently Asked Questions
1. What do you mean by a statutory agent?
Registered agent and Statutory agent both are the same. In Ohio, registered agents are known as statutory agents.
2. What do you mean by registered agent service?
This means that a company approves receiving all the letters and documents from the government on your behalf.
3. Are there any businesses that don't require to appoint a registered agent?
Under Ohio law, banks, trust firms, insurance companies and other firms included in Ohio law do not need to have a registered agent.
4. What is service of process?
Service of the process means that the registered agent that you appoint will receive all the legal notices which may have a court order or any other affairs.
Appoint Your Registered Agent Carefully
This complete guide on Ohio Registered Agent will help you in every way. Do keep in mind all the current rules if you want to get a legal agent. Appointing a registered agent will help you avoid government penalties. Additionally, a registered agent will keep all your business records and filings up to date in case you need them for a legal matter. They can also be useful if you are looking to get an Ohio DBA in the future.