We are here to explore a special program from the military personnel of the US. If you are looking to particularly shop at Ray-Ban, we will tell you all about the Ray-Ban military discount. There are a few things you should know about it to make the most out of it.
Ray-Ban Military Discount
To appreciate the armed force personnel for their service, the Ray-Ban military discount can get you 15% off on all your purchases. You can find this discount on the majority of their collections of lenses and frames.
Ray Ban Military Discount

Discount Rate

15%

Annual Discount Limit

No Limit

Where to Claim?

Online only

Contact Page

Contact Ray Ban

Official Website

Ray Ban
Who is Eligible For a Military Discount?
All individuals who are active, reserved, or retired from any of the five branches (Army, Navy, Air Force, Marines, and Coast Guard) can enjoy this discount. Apart from that, spouses and children of the officials are also eligible.
How To Register For Your Military Discount?
The deal can be claimed for online purchases only for which you need to register yourself at ID.Me. It is a third-party platform that verifies military status for online discounts. Here is how you can register: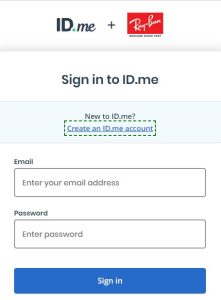 Visit the online store of Ray-Ban.
Add items to your cart.
On the lower right corner of the cart page, you will see the option to apply for gift cards, coupons, and discounts.
Select the military discount and proceed to checkout, the ID.me links will popups.
Now register to ID.me if you are new. In case you already have an account just click "Troop ID" and continue.
Sign in and verify the service identity to make a discounted purchase.
Required Document to Verify Military Status
To verify military status through ID.me you have to submit valid proof. Usually, the proof can be an ID card or DD form but it may be different for everyone.
Active Military member has to provide their ID card, DD form 4, or SCRA status report.
Military Veterans or retired official has to show a Veteran ID card, DD form 214, or accounts statement.
Spouses, children, and other dependent family members should show valid Department of Defense sponsorship cards.
Ray-Ban Military Discount Exclusions
There are a few exceptions to Ray Ban military discount you should know before going shopping at Rayban.com
The discount will be ineligible for any store purchases.
Discounts can't be combined with other coupons.
You can't get this discount for items on sale or clearance.
Frequently Asked Questions
1. Does ray ban offer a military discount to retired members?
Yes, Ray-ban offers a 15% military discount to all active and retired military members.
2. Can I use my partner's military ID to get the Ray-Ban military offers?
Spouses and children of the armed forces personnel are eligible for the military discount.
3. Do I need to show proof of identity while purchasing?
You need to verify the status by submitting ID proof at the time of registering at ID.me. At the time of purchase, you don't have to submit any proof. The online portal ID.me will provide your status.
4. Can I get a military discount on Ray-Ban products from Reseller?
Ray-Ban military discount is only applicable to rayban.com. You can't get them in-store and from resellers.
Other Alternatives For Military Discounts
Ray-Ban also allows discounts to first responders, nurses, teachers, and government personnel. Although other than Ray-Ban, there are other stores that also offer their own military discount programs. Here are some recommendations:
YETI
To Sum Up
Raya ban shows appreciation to those who serve the nation through a 15% Ray ban military discount. Other individuals who serve the nation in other ways can also grab this 15% discount. We recommend you know about the eligibility and procedure to claim such amazing offers. It really helps to save some bucks and enhance the shopping experience.