Under Armour athletic store has all kinds of athletic equipment and clothing. The brand is popular among students who are involved in sports. Now, if you are a frequent buyer or looking to make some purchases. We can help explore the Under Armour student discount which will be a great saving for you.
Under Armour Student Discount Policy
The Under Armour student discount offers verified college students 20% off on online orders. To start with, students need to register and verify their status on UNiDAYS. They can then avail of the discount on selected items.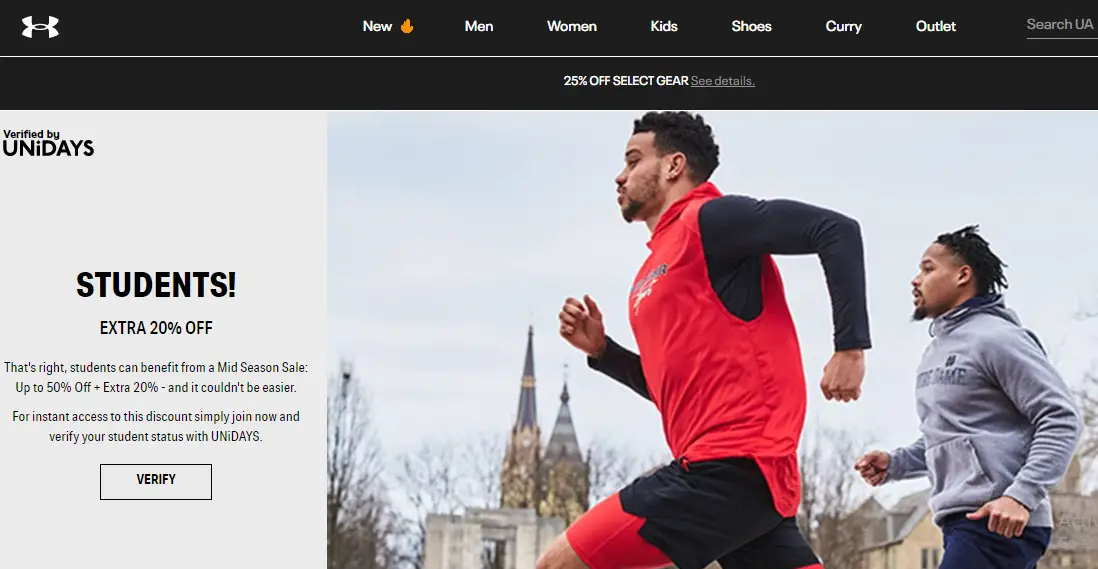 Under Armour Student Discount

Discount Rate

20%

Where to Claim?

Online or Select UA Stores


Official Website

Under Armour

Contact Number

1-888-727-6687
How to Get a Student Discount At Under Armour?
You must verify your student status with UNiDAYS to avail of the discount. However, here are some simple steps to do that.
Go to the UNiDAYS Under Armour page.
Click on "Get now" under Extra 20% off.
Provide your school and course details. Click continue.
Log in to your University portal or provide your school email in the next step.
You'll get a special Under Armour student discount code that you can use during online checkout.
Can I Get a Student Discount In-Store?
Yes, select Under Armour stores do offer student discounts in-store. Head to your nearest UA stores and don't forget to bring your student ID for verification. You may also call ahead the store and confirm before visiting.
Frequently Asked Questions
1. Do I have to verify as a student every time?
No. Once you are registered as a student on UNiDAYS, you can access new discount codes easily for future purchases.
2. Are any items excluded from student discounts?
There are no specific exclusion. Although, Under Armour may not offer discount on existing sales and outlet items.
3. Do UK students also get discount at Under Armour?
Yes, UK students can also save 20% by registering themselves on UNiDAYS.
4. Can I use student discounts with other UA promotions?
Not all promotions/offers. Under Armour is currently running a Mid Season Sale offering up to 50% discounts and an extra 20% off to verified students.
Alternatives to the Under Armour Student Discount
If you cannot find the best deal with the UA student discount, there are many other athletic stores you can try. We suggest trying your luck at the following fashion/athletic brands.
Conclusion
All in all, both US and UK students can benefit from the Under Armour student discount by registering with UNiDAYS. The brand is also running a Mid Season Sale in the UK where students can get 20% off on top of existing discounts of up to 50%.