Saving money certainly feels good and even more so when the purchase is expensive and you are simply looking for ways to get a discount. Our guide here is one smart way to save money on your Apple purchases. Here is a policy, Apple student discount.
As the name suggests, this program is for students who are currently studying. Here is more about its eligibility and solutions to any other issues you might face.
Apple Student Discount
You can save 10% on your total purchase at Apple with the Apple student discount. You simply have to register and verify that you are a student, using the Apple-verified website known as UNiDAYS. This benefits students only from eligible institutes.
This Apple education pricing is only eligible for select products like iPad, Mac, Mac computers, select accessories, and Apple Care. Along with this, you also get a free subscription to Apple TV+.
Apple Student Discount

Discount Rate

10%

Where to Claim?

Online & In-store

Contact Page

800–275–2273

Official Website

Apple
How To Get Apple Student Discount?
To avail of the Apple student discount, you must verify your identity first. You can do so with their verified partner UNiDAYS. Here are a few steps to make your process much easier.
Visit UNiDAYS to verify your account
Enter your email id and password
Next, enter your name and search for your institute name, year of study, and course length
Click on continue
Next, you will need to verify your details through multiple documents
Finally, verify your details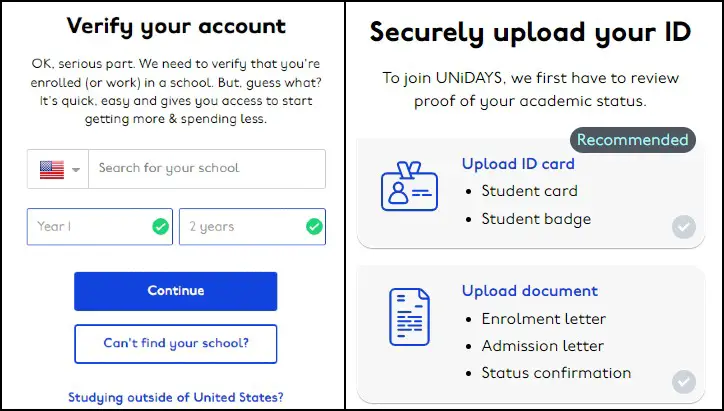 This is a real-time process and you will get your verification confirmation in a few minutes. After which you can use your account to get Apple education pricing on certain products. Use this on online or in-store purchases.
How To Reverify My Student Status
If you are looking to reverify your student details on your own or if there is a pop-up on your screen asking you to do it. You can do it in either of the two ways. You can use iTunes or do it from your phone's settings app.
Follow the steps to verify using iTunes:
Tap on verify eligibility

Sign in to your institution's portal.

Once you are signed in, you will be redirected to iTunes and you will see a confirmation screen.
Follow the steps to verify from your settings app:
Go to Settings and tap on "your name"

Now, tap on subscriptions
Tap on Apple Music membership
Then, tap "Verify your student status." this will take you to the UNiDAYS website.
Verify your details there and you will return to your settings app or Apple music app and get the confirmation.
What If I am no longer a Student?
If your studying is done, you can no longer use the Apple student discount. In such a case, you will be asked to reverify your student status. You can then click on "I'm no longer a student." After this, you will not be asked again to verify your student details.
In the case of Apple Music for students, your apple music plan will be automatically changed to an individual plan. Along with this, you will also lose your free subscription to Apple Tv+.
Note: You will be asked to reverify after every 12 months, if you are still a student simply reverify your student details.
Frequently Asked Questions
1. How can I get Apple Music for students?
You can get the exclusive price on Apple music, you will have to register with UNiDAYS and verify your student details.
2. Can I avail of Apple student discounts on iPhones?
No, Apple has no special education pricing for iPhones.
3. Does Apple have student discounts on iPad?
Yes, they offer Apple student discounts on iPads and Macs for online and in-store purchases.
4. Can I visit any Apple store for education pricing?
Yes, unless and until you have registered with UNiDAYS, you can visit any Apple store for your purchase and use the Apple education pricing.
5. What is the UNiDAYS Apple discount?
UNiDAYS is a third-party app where you can verify your student details and get confirmation of your eligibility.
Looking for Other Stores with a Student Discount?
Apple is not the only store to provide special education pricing. There are other stores as well and our guides are looking at the most popular stores across the US and helping you with their student discount policy if they have one. Here are some of our other guides:
Conclusion
Now, you know how to make the most out of the Apple student discount program. Ensure that you verify your details before assuming any discount. You can also use the UNiDAYS app to show your student verification at the store and get the discount.
In case of any login or verification issues on the UNiDAYS website, you can contact their support team and get the help you need.