Planning to form a new business in Arkansas? Then, the first step toward forming an LLC or a Corporation is choosing your business name. You can perform the search by visiting the Arkansas Secretary of State. There are some naming guidelines set by Arkansas SOS that you need to strictly adhere to. Our simple step by step guidelines will help you register your business name. Performing an Arkansas Business Entity Search will help you know whether you can use your chosen name or not.
Why Do Arkansas Business Entity Search?
Your chosen business name must not be the same as an existing one. Thus the primary objective of performing the Arkansas business entity search is to ensure that your chosen name is unique. And you can use it legally to form a business in Arkansas. The business name search can be performed by visiting the Arkansas secretary of state website. Your business registration would be rejected if it's similar to an existing one.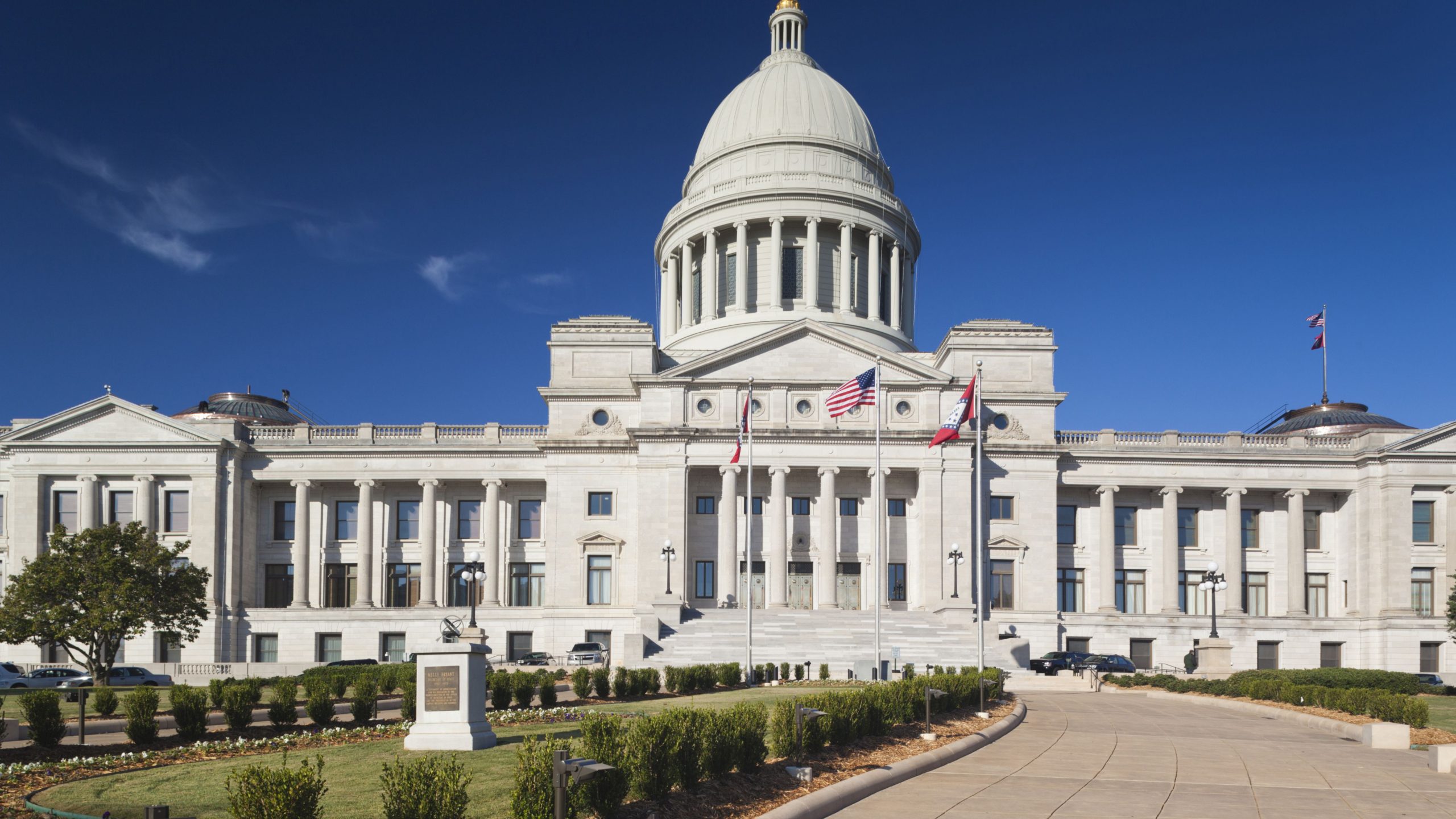 Arkansas LLC Naming Guidelines
Certain norms and guidelines set by the secretary of state must be maintained while you conduct the Arkansas LLC search.
The name chosen must clearly distinguish itself from another existing Arkansas LLC.

Should have the term "LLC", "Limited Liability Company" or "Limited Company" at the end.

Your LLC name must not contain any restricted words like "state department", or "education" as they are commonly used by government agencies. As they may require additional permission from another Arkansas Agency, Board, or Commission.

Use of any indecent and offensive words in your business name is highly prohibited.
Arkansas Corporation Naming Guidelines
The business naming guidelines of a corporation are quite similar to that of an LLC. However, your Arkansas Corporation search must comply with the following guidelines.
The chosen corporation name must not be similar to any existing or reserved corporation name of Arkansas SOS.

Words like "corporation", "company" or "corp" must be included.

Your business name must refrain from using words that are restricted like, "education", "finance" etc.

The use of offensive words in your corporation title can cancel your business registration.
Arkansas Business Entity Search Method
You need to visit the Arkansas SOS website to perform the business entity search, The business entity search result generated can help you know whether your chosen business name is registered or already reserved. It also helps to find out more details about other businesses. The Arkansas SOS allows you to perform your search in multiple ways.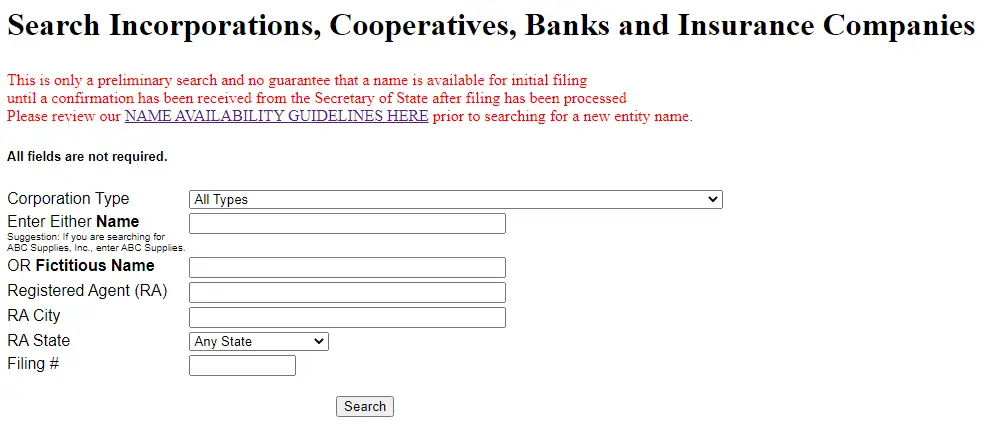 1. Search by Business Name: You can select the business type and enter your desired name. If the name is already registered by any other business firm then the name would appear along with the other business details. However, if the search result page is blank then you can use the name to register your business.
2. Search By Filing ID: If you want to find out more about an existing business then you can simply do that by entering the Filing number.
Filters Available – 
Corporation Type

Name

Registered Agent Name

City – Registered Agent 

Registered Agent State

Filing Number
Arkansas Business Entity Search Process
The Arkansas LLC or Corporation Search has to be done by visiting the Arkansas SOS website. We have provided you with the exact 5 steps that would help you do the Arkansas business entity search without any hassle. 
1. List out your Desired Name:  You must choose an appropriate name that suits your business name and complies with the Arkansas Naming guidelines. It is always advisable to keep some alternatives to your desired name if your first option is already registered or reserved.
2. Perform the Arkansas Name Search: Once the business name is decided, you can do the LLC/corporation name search. You can visit the Arkansas SOS website and use the business name search tool.
3. Analyse the search page result:  After the search result is generated, you have to check whether there are any names similar to what you have chosen. If similar names appear on the screen but are not the same then you can move ahead with registering your business.
4. Reserve your LLC/Corporation name (Optional): If your chosen name is available, you can definitely reserve the name so that you can be able to use it in the future. You can book your business entity name by visiting the Arkansas SOS Website for 120 days. The online filing fee is $22.50 and the paper fee is $25.
5. Register your business with Arkansas SOS: If you are confirmed with the name you have decided on, then it is best to move ahead with registering your business with the Arkansas Secretary of State website.
Other Considerations Before Choosing a Name
Choosing a business name has a lot of significance in other business aspects. In the future, if you want to expand and grow your business, there are some important considerations to be made.

Trademark Search – It is important that along with registering your business you also do a state trademark search. Doing a trademark search will ensure the safety of your business functions in the future.
Domain Name Search– We recommend that you also have a domain name preferably the same as your business name. This helps you increase your online presence as customers can locate you quickly.
Social Media Name Search- Social Media has an important role to play when you plan to advertise your business. Conducting a social media search will help you know if your brand name is socially present or not. If you find a brand with the same name then you can modify your existing name slightly to match your niche.
Frequently Asked Questions
1. What is the file number for businesses in Arkansas?
The entity number or file number is a unique identification number of the Arkansas SOS when you register or form a business .
2. What should I do after selecting a business name in Arkansas?
You may register your business right away to make the name officially yours. If you aren't ready to do so, you may also reserve it with the Arkansas SOS.
3. For how long can I reserve a business name in Arkansas?
The Arkansas SOS allows businesses to reserve a name for 120 days.
4. What if my chosen name is not available?
If the name is occupied by another business in AR then you won't be able to register a business with that name in the state. Find other suitable names.
Conclusion
In conclusion, we hope we were able to give you a complete guideline on how you can form a new LLC or Corporation in Arkansas. In addition, we have also guided you on what you should and should not do to register your LLC/ Corporation name search. The Arkansas SOS website will give you in-depth information on the Arkansas business entity search as well.