The Nike-owned store, Converse is a popular custom shoe store for teens. The pricing is usually on the higher end. But if you are a student on a tight budget, then the Converse student discount policy is here to save the day.
Here's all you need to know to verify your student status and claim a student discount on your favorite Converse shoes and other apparel.
Converse Student Discount Policy
College and university students in the U.S. can take advantage of a 10% Converse student discount both online and in-store. The discount is available on a number of items but there are some restrictions. You will have to verify your student status by providing the necessary details to get your discount code.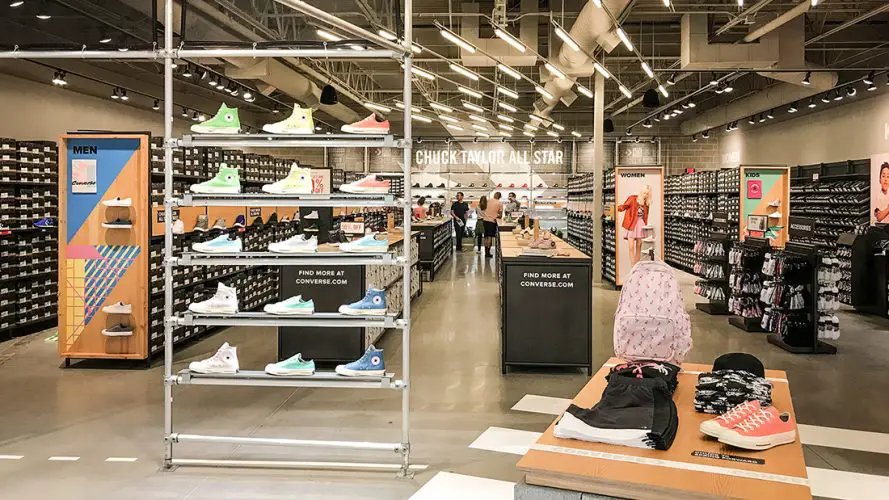 Converse student discount

Discount Rate

10%

Where to Claim?

Online & In-store

Contact Number

800 428 2667

Official Website

Converse
Who is Eligible for this Discount?
The Converse student discount is available to students enrolled in degree or certificate-granting schools, colleges, and universities. For student verification, Converse may require details like school/college name, class schedule, tuition receipt, or transcript to claim your discount.
How Do I Register for the Discount?
To receive a student discount at Converse, you'll have to verify your student status with SheerID. Head to their discount page and click on "Verify Your Details". Note that you must be enrolled in a degree or certificate-granting school for this offer. Provide the name of your college/university and other details.
Once submitted, you should be notified via email within 20 minutes. It will let you know if your verification was successful or if additional details are needed.
How to Get a Student Discount On Converse.com?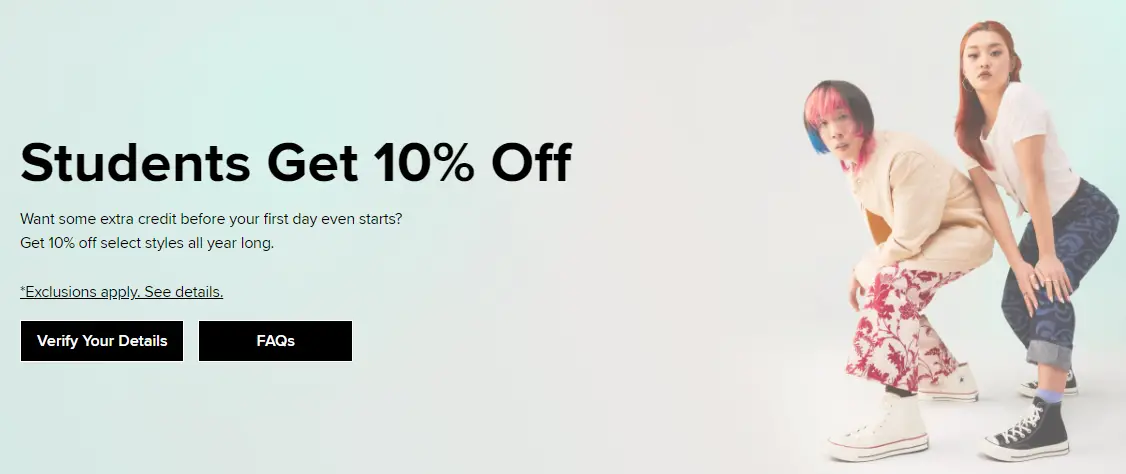 For online purchases, you may also verify directly from the shopping cart or during the second step of checkout. Once done, click the link that routes back to Converse.com and your 10% off will automatically be applied to the eligible cart total.
The link is for single use only and you'll have to verify as a student again when shopping from Converse.com.
Can I Claim the Discount In-store?
Yes, you may also claim your Converse student discount when shopping from your local store. Finish your SheerID verification and show your approval email to any store executive or cashier. They will process your 10% discount on the total of qualifying items.
Just like online purchases, you will have to verify your student status again when looking to purchase from Converse retail stores.
How Can I Pay for Student Purchases? 
Student purchases are not subject to a specific payment method when shopping from Converse. You can use your Visa or MasterCard just as you would normally do. You can use any of the following payment methods when shopping from Converse.
Visa, MasterCard, American Express, or Discover
PayPal
Converse and Nike Gift Cards
Apple Pay (on specific devices)
Klarna
Ineligible Items For Student Discount
Though you can buy pretty much anything, the Converse student discount is not applicable to some collections both online and in-store. The following list mentions all the exclusions.
Converse gift cards
Limited Edition items
Custom Items
Converse By You products
NBA licensed products
Frequently Asked Questions
1. Is the discount available on NBA shoes?
No. Converse don't offer student discounts on NBA licensed products.
2. Do I have to reverify for each purchase?
Yes, you'll have to verify your student status before checking out each time on Converse.com.
3. Can I stack my student discount with other promotions?
No, you won't be able to combine other discounts and promotions with 10% student discount.
4. Can I redeem my student discount for cash/credit?
No. You cannot redeem your student discount for cash, credit toward previous purchases.
Other Footwear Stores for Student Discounts
When it comes to student discounts on footwear, Converse is not the only option you can rely on. The following stores are some of the best alternatives to find the best deals on footwear and other fashion items.
Foot Locker
New Balance
Reebok
Conclusion
We have shared every important detail related to Converse student discounts. You can easily verify as a student with SheerID and within 20 min, get a 10% discount on your favorite Converse.com merchandise. Just keep the above-listed exclusions in mind. For any queries, talk to customer care.