To start your own business in Delaware, you need to file for the Delaware Certificate of formation. The certificate affirmation is a legal document without which you cannot run your business legally in Delaware. In this article, we will provide you with a thorough guide on how you can file for the certificate of formation and other considerations that need to be kept in mind to smoothly run your business in Delaware.
What is Delaware Certificate of Formation?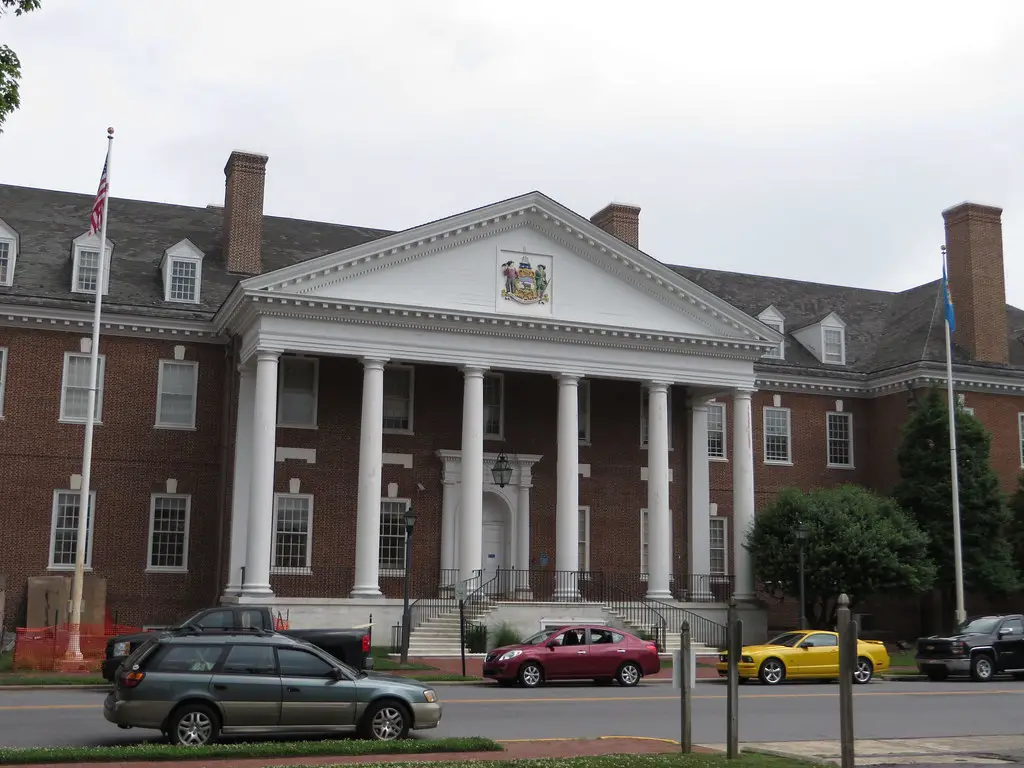 The Delaware certificate of formation is an official document issued by the Delaware Secretary of State. Once the Delaware Divisions of Corporations accepts your LLC  filing you will receive the Certificate of Formation in your email. This official document is an asset that helps you run your business smoothly in the future. You can also hire a registered agent who would help you in your filing works.
Why File a Certificate of Formation with the DE SOS?
Filing a Certificate of Formation in Delaware helps your business gain a legal foothold in the state. Apart from providing the necessary legal support, you also get to enjoy all the benefits of forming a business in Delaware. It helps you gain a perpetual existence, and lets you transfer ownership legally. In addition, it also helps you gain a tax advantage, open bank accounts, and manage your business shareholders easily.
What Information is Needed in the Certificate of Formation?
While filing the Delaware Certificate of formation at Delaware SOS, you have to be required to mention 3 important items. This includes the name of your Delaware LLC, the address of your registered LLC, and the names and addresses of the Registered Agent who is filing the Certificate of formation. Let's take a look at how you can fill out the 3 important items.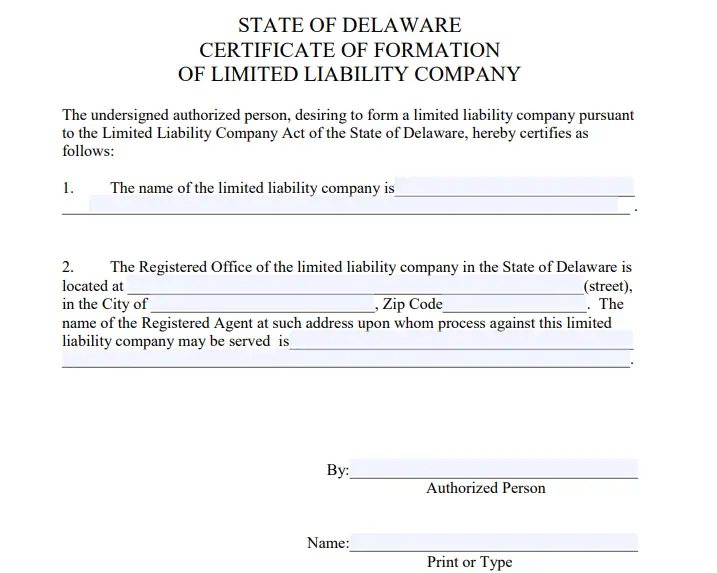 Item 1: Name of the Delaware LLC
The first step toward filing the Certificate of Formation is to name your Delaware LLC. Naming your LLC is the first step toward forming a business entity and you must have chosen the desired name. You should perform a name search tool by visiting the Delaware SOS website. In addition to the availability of your chosen name, your LLC name must also comply with the naming guidelines set by the Secretary of State, Delaware. Our article on Delaware business entity search can help you perform the necessary search without any hassle.
Item 2: Delaware LLCs Registered Office Address
In this section, you have to clearly mention the full address of your Delaware LLC registered office address. The section of the address must clearly state the street, city, and zip code. This address is of utmost importance and you must provide your full mailing address without any error. All official documents would be addressed to your Delaware LLC with this address.
Item 3: Name and Address of the Delaware Registered Agent
In this section of the form, you have to mention the details of your registered agent in Delaware. The registered agent, be it a person or any company is the sole responsible person to receive all official documents and deal with all official filing purposes. You have to clearly mention in the form, the name and mailing address of your registered agent who will be responsible for the service of process of your Delaware LLC.
How To File My Delaware Certificate of Formation?
Once the form is correctly filled, to file your Delaware LLC, you have to certificate of formation at the Delaware SOS. The filing fee is $90 and you can do it either by using their document upload service or by mailing it to them.
Online Filing: To file the Delaware Certificate of formation online, you have to simply visit the Delaware one-stop registration and filing portal. You have to create an account and then move ahead with the process. The entity forms available are PDF fillable and can easily be downloaded.
By Mail: If you want to register  Your form by mail, then you have to attach a cover sheet mentioning your name or entity name, return address, and phone number. You can mail it to the below-mentioned address.
Mailing Address:
Delaware Division of Corporations
401 Federal St.
Suite 4
Dover, DE 19901
Can I Amend the Delaware Certificate of Formation?
Once you have completed the Delaware certificate of formation, you can always amend your business ideas by filing the Certificate of Amendment. The filing fee for certificate amendment is $194. However, if your certificate is longer than one page then additional charges of $9 have to pay per page. From names, powers, and businesses, to registered agents and dividend rights, everything can be amended using the Certificate of Amendment. To get additional help during the filing process, you can also contact the Delaware SOS helpline at (302) 739-3073.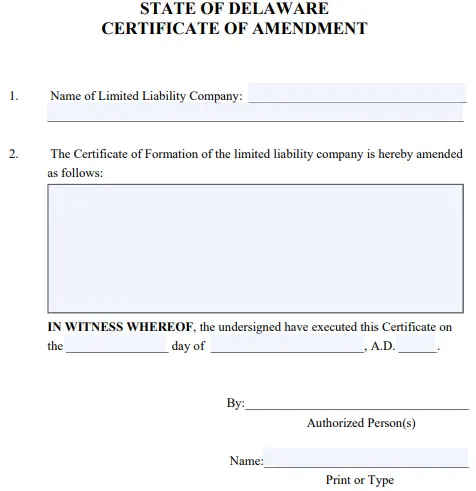 How Much Does DE Certificate of Formation Cost?
You have to file the Delaware Certificate of formation at the Delaware secretary of state. The filing fee is $90. You will receive a stamped filed copy of the document. To receive a certified copy you have to pay an additional fee of $50. Expedited services are also available at extra charges.
What is the Approval Time For The Certificate of Formation?
The approval time for the Delaware Certificate of Formation varies on the filing methods. Usually, SOS  can process online submissions faster than those sent by mail. Under the normal application process, Delaware SOS takes 10-15 days to approve the form. However, the timings will differ for expedited services.
What After My Delaware Filing Process?
The Delaware Certificate of Formation is crucial for your business formation. Although there are other considerations you must look at too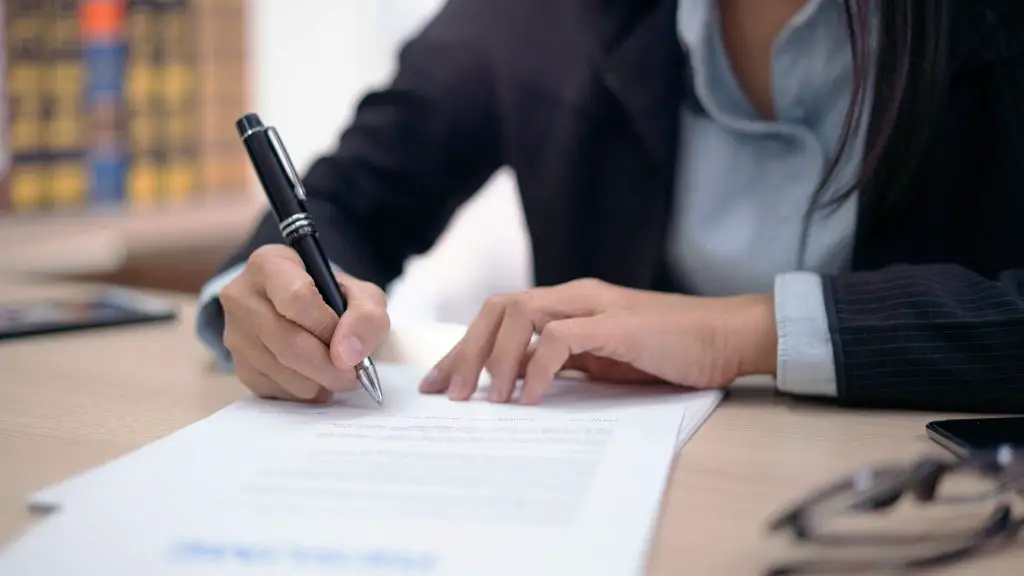 Create the operating agreement: An operating agreement is a document that clearly indicates the roles of your member and the ownership structure of your LLC. Though this is not a mandatory document, it helps in getting future conflicts resolved. Your Delaware LLC operating agreement will not be a public record and just be a part of your private records.
Get your EIN: EIN or the Employer Identification number acts as a social security number for your Delaware LLC. Once your business starts to grow, you need an EIN to hire employees as well as open bank accounts. You can either file it online or by mail through the IRS website. In other words, the EIN is a unique 9-digit number that helps the IRS(Internal Revenue Service) for identifying businesses and file their tax reporting.
Get your business license: While you plan to register an LLC in Delaware, you must also find out if the business you plan to open needs any additional licenses or permits. On the federal level, you can go through the SBA website, to know more about the necessary permits and licenses. For state-level licenses, you can visit the Delaware one-stop website.
Open a Bank Account: Using separate accounts for your business and private expenses is a mandatory step to protect your business. Above all, your personal assets can be at risk in case of any unfortunate events.
Frequently Asked Questions
1. Do I have to file for Delaware LLC annual report every year?
Yes, you have to file it every year and the amount is $300 payable to Delaware SOS.
2. Where should I contact for assistance while filing Certificate of Formation in Delaware?
You can call on (302) 739-3073 if you need any further assistance during the filing process.
3. Can I expedite my filing time?
Yes, by paying an expedite charges, you can shorten the duration of Certificate of Formation processing time.
4. Can I get a certified copy of my Delaware Certificate of formation?
Yes, you can get it by paying $50 extra to the Delaware SOS.
Also, Remember This
We hope, by now you have understood the significance of filing the Delaware Certificate of Formation. You must take ample time during the filing process. Any mistake can result in filing the amendment which can incur additional charges. For instance, you can also take help from a registered agent who has prior experience with the filing process.