Looking forward to starting an LLC in Delaware? Find out the most relevant steps in this article to know how to start an LLC in Delaware. Limited Liability Company (LLC) offers you the most relevant and flexible solutions that attract business owners in the United States. Solve your queries step by step if you are about to form an LLC in Delaware. Learn more about starting LLC in Delaware here. 
How to start an LLC in Delaware?
The Delaware Department of State offers a certificate of formation to form an LLC in Delaware. To start your firm you much meet certain requirements to carry forward your name. the steps will be the same for both foreign LLCs and domestic LLCs. Let's get into its roots and discuss the five main steps which are 
Delaware Business Entity Search

Pick a Delaware LLC Registered Agent

Delaware LLC Certificate of Formation

Operating Agreement for Delaware LLC

Obtain EIN for LLC in Delaware
Check the following details for Delaware LLC that will be helpful ahead while forming a business in the state.
Delaware LLC Important Details

The Form
Certificate of formation
Agency
Delaware Secretary of State
Filing Fee (Domestic/Foreign)
$90/$200
Registered Agent Fee
Cost between $50 to $300
Online Filing
Available
Franchise Tax Calculation Per Annum
$300
Delaware LLC Name Search
Starting from $89
LLC Name Reservation Fee
$75
Step:1 Delaware Business Entity Search
The foremost and the most important step before starting your business is to choose the name for your LLC in Delaware. The name you select must be relevant and must be clear enough for your client to search. There is a guideline that you have to follow while deciding on the name of your LLC. 
The name of your LLC in Delaware must include LLC or L.L.C – the abbreviation or the phrase Limited Liability Company at the end.

It has to be distinguished and clear enough for your clients to understand

Make sure that the name that you have picked is available in the Delaware state 

It should not confuse any government corporations like the FBI, treasury or state department, etc.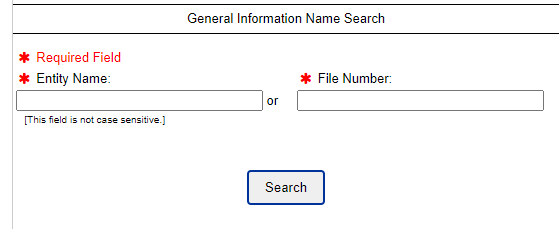 Reserve your business name by applying to the state's Division Of Corporation. You will have to pay a filing fee of $75 to reserve your name. Your name will be reserved for 120 days and you can do it online or by 
Mail:
Delaware division of a corporation,
401 Federal Street – Suite 4
Dover, DE 19901
We recommend that even if you are not planning to buy a URL for your LLC in Delaware, you must check that the name taken by you is available for the web domain. Check through your preferred domain registry. In the future, you will be acquiring the URL to prevent others from claiming it. You can visit the Delaware secretary of state business entity search to check the availability of the name chosen for your LLC in Delaware.  
Step 2: Registered Agent for LLC in Delaware
After reserving the name for your business, you have to assign a registered agent for LLC in Delaware. They are the ones responsible for checking lawsuit notices, accepting legal documents, taxes and other government correspondence.  
A registered agent for your LLC in Delaware must be 
A resident of Delaware

Have a street address

Above 18 years of age
Being the owner of the business, you can elect yourself for the position of the registered agent for LLC in Delaware. For every formal business, a registered agent is required.  
Why does LLC in Delaware need a registered agent? 
LLC in Delaware needs a registered agent to go through every company's paperwork. A registered agent acts as a business entity in the company. The registered agent cost between $50 to $300. The company always needs someone stable enough on which they can rely on. 
Want to change your registered agent? 
To change your agent for LLC in Delaware, you have to fill up a Change of Agent form. It will cost you a $50 fee which can be paid only online. 
We recommend hiring an agent who is compliance in nature and solves every complication of your company, who can maintain privacy, handle discretion if any sensitive situation arises, is flexible to takeover anytime, is up to date, and get online storage as soon as needed and have qualified for national coverage in case of growing your business on a larger scale. 
Step 3: Delaware LLC Certificate of Formation
To start an LLC in Delaware, you have to compulsorily fill-up the certificate of formation. The legal form of forming an LLC in Delaware is different for Domestic LLCs & Foreign LLCs. The certificate of formation of an LLC in Delaware has to be filed by paying a $90 fee to the department of state. There are two ways to file the form: 
Online: You can upload the copy of the pdf form filled OR

You can attach the hard copy and mail it.  
Mailing Address:
Delaware division of the corporation,
401 Federal Street – Suite 4
Dover, DE 19901
We recommend you to fill out the certificate of formation online through which at times of editing you can easily access the website and edit the changes. 
Step 4: Delaware LLC Operating Agreement
The document outline ownership & operating procedures of the LLC in Delaware is the Operating Agreement. LLC in Delaware does not ask you to have an operating agreement but it is a good idea if you have one. 
The reason why an operating agreement is important
To protect the operations of your business

Ensures that all the owners are on the same page

Reduce the risk of future conflict

Set clear rules for LLC as a legal entity
Your operating agreement should meet below expectations for the sake of legal prospects
Organisational structure: Explain how the ownership is divided and how many members are there. Mention how many units the ownership is divided to the members. 

 Voting & management of LLC: Every member generally has one vote power to decide whether the company will be manager-managed or member-managed. Management of the company depends upon the members of the LLC. 

Funds contributions: The amount of money that members invest in the business

Equal Distributions: Even distribution of profits gain. 

Membership structure: If one of the member's leaves, changes would take place in the firm. It's necessary to mention in LLC legal documents the process of members being replaced or positions changed.

Dissolution: Outline a hypothetical example if you wish to dissolve your business in the future. It is an important aspect to mention the process of dissolution. 
We recommend you get the operating agreement for your LLC in Delaware in case of any future conflict. You will always have a written form of the terms and conditions decided at the beginning of your LLC. 
Step 5: Obtain an EIN
The Employer Identification Number is the nine-digit number for your LLC in Delaware. It is assigned by the Internal Revenue Service (IRS) to help your business for taxation purposes.
Why is EIN important? 
You'll need EIN to hire employees

To open business bank accounts

File & manage federal taxes

Manage state taxes

To maintain a corporate veil 

Qualify for business loans

Build your business credit

For getting a business credit card
You can get EIN free through the IRS website. It is an easy process held out through mail or online. The sole proprietorship has to get a new EIN while converting to LLC. 
We recommend you to get your EIN as it acts as social security for your LLC in Delaware. 
Delaware Foreign LLCs
You always have an option to start your business in different states. If you are not a resident of Delaware, you will still be able to start LLC in Delaware. You can register as a foreign entity and operate your LLC in Delaware. You can do this by mail and pay $200 fees which are non-refundable to the secretary of state.  
Mail Address:
Delaware division of the corporation,
401 Federal Street – Suite 4
Dover, DE 19901
How to obtain a certificate of good standing in Delaware? 
To verify that the LLC that you formed in Delaware is legal and maintained, you need a certificate of good standing or certificate of status. For many instances, you would need a certificate of good standing for your LLC in Delaware like 
Seeking loans from the bank

Form your business as a foreign LLC in other states 

Renewing business licence or permits
You have to fill-up the form by paying $50 for a short-form certificate & $175 for a long-form certificate then,  
Fax it to (302) 739-3812 or 
Mail:
Delaware division of a corporation,
401 Federal Street – Suite 4
Dover, DE 19901
What After Filing Delaware LLC?
Start gathering the points that could impact your business in the longer run. Take necessary steps after building up your name for LLC in Delaware. Establish a business phone service to satisfy your customer and solve their queries. Aside from this get to know your LLC in Delaware and take certain intact decisions to carry forward it like
Open A Business Bank Account 

Do not jargon your account to your business one. Open a new separate account for your LLC in Delaware to safeguard your private assets. Protect your business' corporate veil by using dedicated business criteria. Get a separate business credit card. 
Claim Licence & Permits
When you register for an LLC in Delaware, you will need a licence and permits for your firm. Those licences and permits have to be needed to remain compliant. There are a handful of business activities at the federal level that need permits and licences. Find out how professional service obtains the necessary permit/licence for you: 
State: Apply for licence/permits on Delaware's one-stop official site.

Federal: U.S. small business guide will help out to register for federal business permits/licences. 

Local: to know about local licences/permits, you have to contact your local county clerk. 
Know your Business Management
After registering for LLC in Delaware, decide who will manage your business. LLC has two management structures 
Member management: When the number of members in the firm is relatively small and they participate in everyday task
Manager management: When the number of members in the firm is relatively large and they are not curious enough to participate in everyday task
The size of the company decides if it is member-managed or manager-managed. Take the best yet accurate decision for your company. 
We recommend you always hire a manager and make your business a manager-managed LLC. 
Know The Tax Requirements
You have to fill up one or more state taxes depending on the nature of your business. Let's get into a brief about the tax requirements
Sales Tax

: Delaware does not impose sales tax on goods and services. 

Employer Taxes

: On the State of Delaware website, you have to register for Unemployment Insurance Tax if you have employees. Employers have to pay Employee Withholding Tax online on the Delaware Division of Revenue.  



Gross Receipts Tax

: The exact amount of gross tax depends on the type of business you have. 

Franchise Tax

: It applies to all the formed LLCs in Delaware. The tax is differentiated based on the income of each LLC. It can be done online with no fees but a tax calculation of

$300

for all LLCs per annum.

Federal LLC Tax

: The income of each LLC has to inform to the IRS through different forms like form 1065 partnership return which is generally used by multi-member LLCs. Whereas the single-member LLCs uses form 1040 schedule C. 
Mail Address:
Division of Revenue
P.O. Box 8703
Wilmington, DE 19899
Hiring Employees in Delaware
After you have formed your LLC, you will need to hire employees to work towards a common goal. Although there are a few things that should be kept in mind during the hiring process.
Employers should be able to work in the United States. 

If you hire an employee, you should inform the state

Provide employees compensation and insurance

They should Withhold Employee Taxes

Place a workplace ethics poster in visible areas of the company

Frequently Asked Questions
1. How much does it cost to reserve your LLC name in Delaware?
You have to pay $75 fee online or by mail to reserve your name
2. Why is it important to obtain an EIN number?
EIN is a 9 digit number which is important for the purposes like hiring an employee, getting a bank account or to fill taxes.
3. Is the certificate of formation same for both domestic & foreign LLCs?
No, the certificate of formation is different for foreign LLC and State LLC.
4. How much does a registered agent cost in Delaware?
Registered agent costs from $50 to $300 in Delaware who will help in gaining best results to the LLC in the long run.
5. Does the Franchise tax apply to all the LLCs in Delaware?
Yes, the tax calculation of $300 applies to all the LLCs in Delaware per year.