No matter which kind of business you are operating in the state, a registered agent is a must. When forming an LLC/corporation in Nevada, you certainly have to appoint a Nevada registered agent. Your business needs more than one person to grow and a registered agent is a reliable source. Let us walk you through this post and guide you on your way to appointing a Nevada registered agent.
What is a Nevada Registered agent?
A business entity that is responsible for all the legal work of a business is a registered agent. Every business in Nevada has a Nevada registered agent. They look through all the legal paperwork of a business. They are mostly responsible to circulate the legal notice to the owner of the business if they are not available. The Nevada Registered agent has the authority and responsibilities of the LLC/corporation. A registered agent is legally appointed by the state of Nevada.
In Nevada, three kinds of registered agents are set to fulfill the requirements of statutory. They are
Commercial Registered Agent: They represent ten or more entities
Non-Commercial Registered Agent: They have a state address and do not act to represent ten entities
Title of Office or Other Position Entity: An owner who elects themselves to serve their business by setting forth an office or position
Why is it Mandatory to Assign Nevada Registered agents?
A Nevada registered agent handles all the ongoings of the business. They are the face of a firm that answers all the lawsuit notices and government notices. The state expects a registered agent to fulfill all the requirements of a business. They are the most reliable source that accepts official mail and service of process on behalf of the business.
The Nevada registered agent is clearly responsible for the whole business. Whether you have an LLC or a corporation, a registered agent is a must. They will cost around $50 to $300 per annum. Registered agents are mandatory for the growth of your business.
Can I be my own Registered Agent?
Yes, you can appoint yourself as a registered agent for your business. Nevada registered agent is a must for every formal business in the state of Nevada. Any employee or third party can also be a registered agent. They certainly have to meet some points to be a registered agent of the firm. Moreover, they have to be 18+ to become a registered agent of a particular business or firm.
Risks of being your own registered agent
Ensure your presence in the company during business hours
Necessarily have a street address of Nevada
Should be able to strictly answer all the legal notices on time
Receive official mail from a lawsuit that needs a quick response
What is Expected from an Agent?
While appointing a Nevada registered agent, a business owner expects that they meet all the state requirements. The verification and checking of all legal documents are done by Nevada registered agents. They act as key support for every formal business. The following points state what exactly a business owner expects from them.
Certainly, attain all legal meetings
Come forth with the best possible ideas to grow business
They should surely have information about the company they work for
A registered agent must have information about LLC members and all authorities connecting the business
Specifically, able to maintain business reputation
Notify the owner about legal documents
Should be able to manage legal conflicts if they arise
He/she should simultaneously be a communicating link between an LLC/corporation and a state
Who Can be my Nevada Registered Agent?
You can appoint yourself as a registered agent of your business. Unless you are fine managing the firm. You also have an option to appoint your friends, family, or third party for the position. You can choose anyone to represent your business unless they are trustworthy and responsible.
What are the Rules to Appoint an NV Registered Agent?
To appoint a potential and responsible candidate, you have to follow some rules. The rules will allow you to choose the perfect candidate for the position. A candidate indeed must have the following things to become an Nevada registered agent.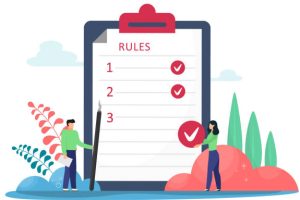 Necessarily have a local state address and business address enlist with Nevada SOS
A physical presence in the state and ID proof with a street address and not of a P.O. box
Probably able to handle LLC members and legal work during working hours
A fine quality to represent the business in front of the state
Unquestionably responsible to convey legal documents to business owner
How to Appoint An Agent in Nevada?
Appointing a registered agent in Nevada is not a task unless you know how to do it. We provide you with the right steps and guide in this post to appoint a registered agent. You have to appoint an agent before registering your business with Nevada SOS. A Nevada article of organization has to be filled up to appoint a registered agent for your LLC. There is an article of incorporation that appoints a registered agent for your corporation. You can do it online, by fax, or by mail.
Online: Visit the official site of Nevada SOS to fill up the application. You have to pay a filing fee of $425 to the secretary of state.
By mail: You can submit the application in person or by mail by filling the fees of $425 (($75 Articles of Organization + $150 Initial List of Manager or Members + $200 Business License Application)
Fax: 

You can submit the articles of organization by fax on: (775) 684-5725 

Is Agent Consent Require?
A business needs proof of their appointed registered agent in written form that they won't leave the firm. The candidate has to satisfy the owner of a business with a surety. Their signature on the certificate of acceptance of the appointment by a registered agent is a must.
The certificate holds all the information with the candidate's signature as well as proof of security. You can apply for it online, by mail, or by fax.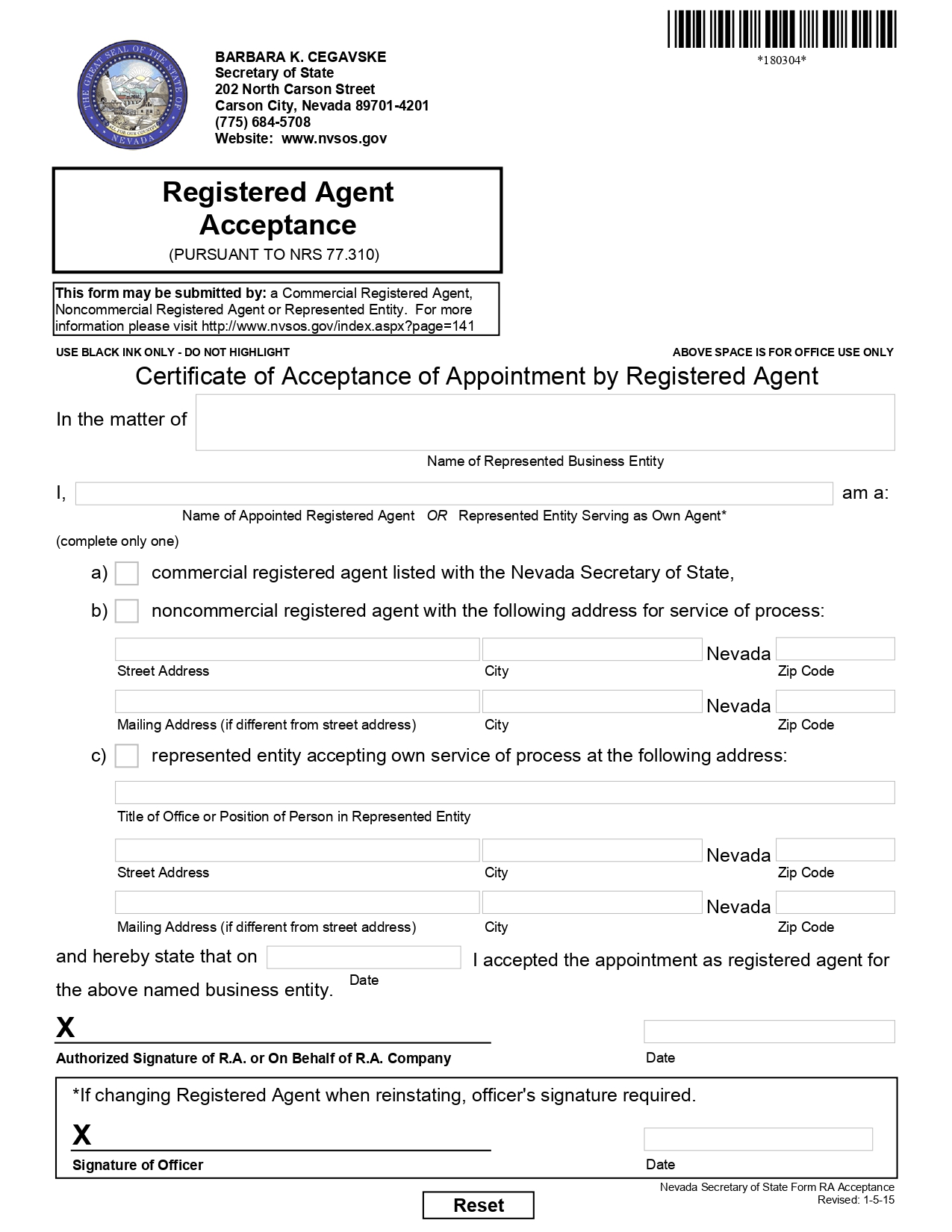 How to Get Free Registered Agent?
You can get several benefits by appointing a free registered agent. Many services cost only $75 and provide a cost-effective service to LLCs and corporations. You can get the reliability of an individual with a one-time investment. They will take care of your articles of organization and other legal documents. In addition, they will appoint a candidate for the position of registered agent.
Frequently Asked Questions
1. How to choose a registered agent in Nevada?
A registered agent should meet all the qualities to maintain a business reputation. apart from it they should be above the age of 18 and have the street address of the state of Nevada.
2. How many kinds of an agent are there in Nevada?
There are three types of registered agents in Nevada. Commercial, Non-Commercial and Title of office or Other position entity.
3. Does Nevada LLCs/Corporations require registered agent?
Yes, Nevada business entities by law require a registered agent.
4. How much does a registered agent cost in Nevada?
A Nevada registered agent cost around $50 to $300 per year.
Choose Wisely
No matter who you choose for the position of Nevada registered agent, they have to strictly meet the requirements of the state. The business should be able to grow and expand in the future. Ensure they provide invaluable service to your LLC/corporation in Nevada. Hence, choose thoroughly so that a registered agent maintains the reputation of your business.