When you are all set to open a new business in Ohio (or anywhere else), one crucial step is selecting a name. You cannot name your business out of the blue. Sure, you may use a catchy name but it should also be unique and legally valid in Ohio. For this reason, your first step should be performing an Ohio business entity search to find out if you can use a name or not. Your LLC or Corporation should also follow the naming rules in Ohio.
Why Do Ohio Business Entity Search?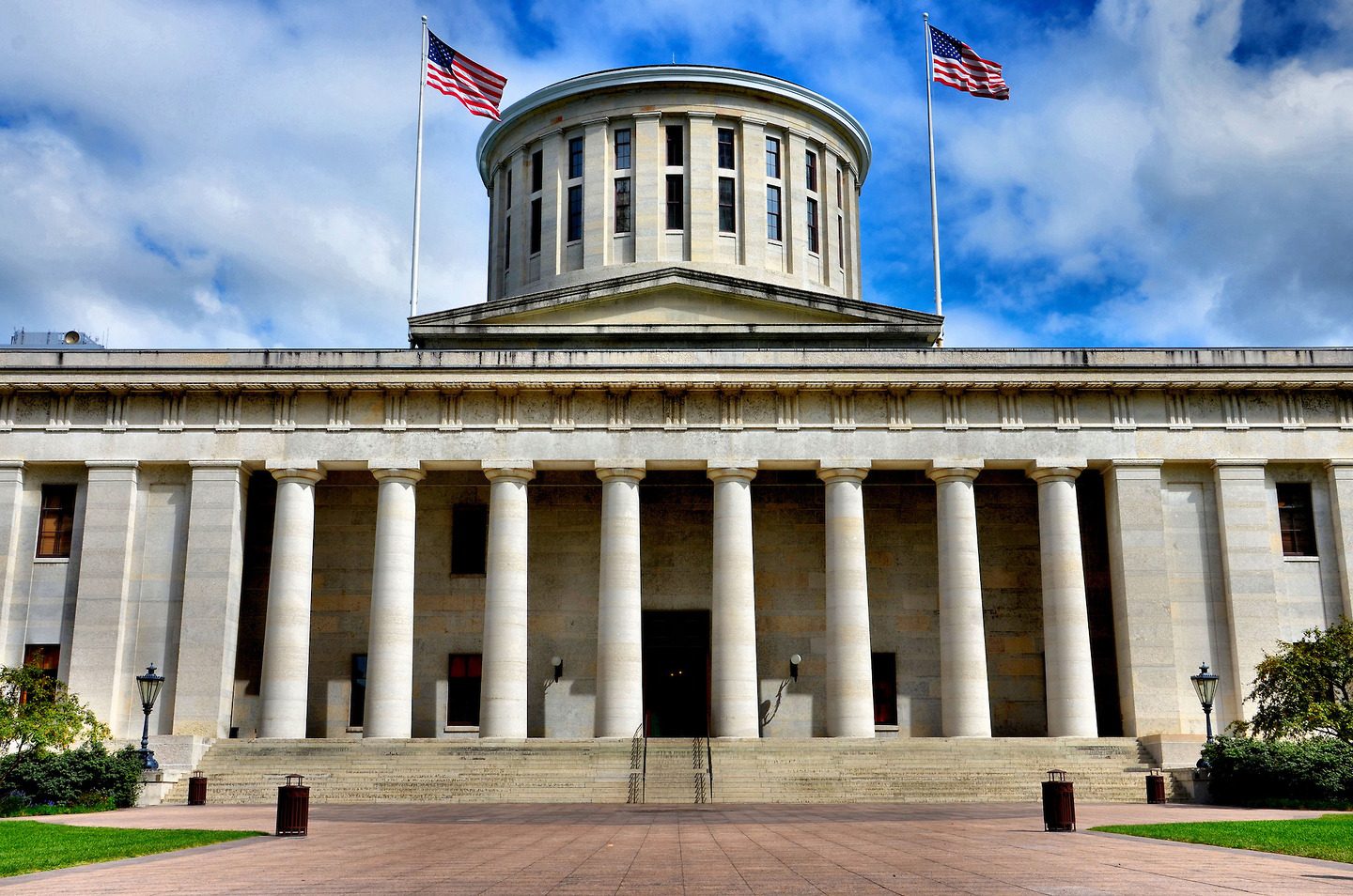 You cannot name your business after a name that's currently used by another registered entity in the state. The Ohio SOS website gives you all the information necessary to register a new business with a unique name. Doing an Ohio business entity search on this website will not only help you find distinguishable names but you can also know more about existing businesses. Using a similar name will fail to register your business with the Ohio SOS.
Ohio LLC Naming Guidelines
Before you do an Ohio LLC search to name your LLC, you should know the following naming rules for a limited liability company.
Your name has to include the term-limited liability company or its short forms (LLC or ltd)
You aren't allowed to use profanity words/phrases that are slur against religion, gender, or an ethnic group.
You are restricted from using names that imply that your business is associated with a state or federal agency. Such as – Ohio police, FBI, etc.
Your LLC name should be unique from other registered businesses in the state. including trade names and Ohio reserved names.
You cannot use the following words unless your LLC is also registered as cooperative: cooperative, coop, co-op, co-operative.
Ohio Corporation Naming Guidelines
Before you do an Ohio corporation search to name your corporation, you should be aware of the following corporation naming guidelines in the state.
Your name has to include either of the words – company, corporation, incorporated, or the abbreviations (Co., Corp., Inc.)
You should choose a name that's distinguishable from other domestic or foreign entities registered in the state. including trade names.
You are not allowed to use words that suggest that your business is a government agency in the U.S.
Words like "bank & trust" will need approval from the bank supervisor.
To use the word "insurance", you'll need permission from the Department of Insurance.
Ohio Business Entity Search Methods
The Ohio SOS business search page can give all necessary information about registered businesses in the state. You can search different Ohio businesses in the following ways.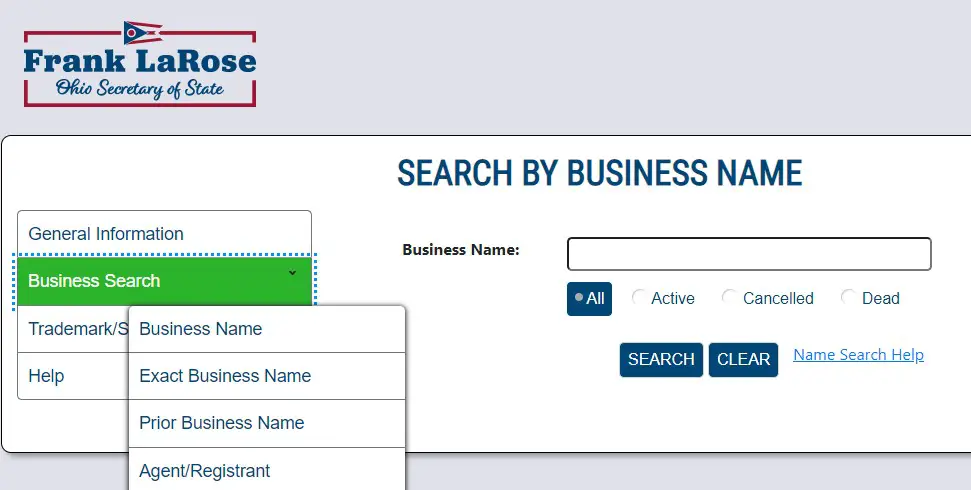 1. Search Business Names/Formal business Names – You can search your preferred names to check if the name is associated with another business or not. Aside from that, you may search existing entities (like – Pizza Hut) for details like – business id, status, agent information, filing dates, etc.
2. Search Registrants (registered agents) – If you wish to assign an agent to help with your business filings then you may search for famous registered agents and find out which businesses they are handling. This is a good way of finding a reliable agent.
3. Search the Entity No. – businesses in Ohio have a unique entity number. Searching this number gives you a single result of the business linked to that number.
How to Run an Ohio Business Entity Search?
Let's see how to run an Ohio name search to find out if your selected name(s) are available to use in the state. This part will also cover available options after finding a unique name.
List business names – Make a list of possible names that you would like to use for your new business.
Search the names – On the Ohio secretary of state business search page, perform a business name search for all names to check for their availability.
Review the result – If the result page shows an active business using a similar name then you must not use it. Go for a name that doesn't have a result with a similar name.
4. Reserve your name (optional) – If you find a name but need more time to organize documents for registration, you may reserve it for the time being. Simply file a name reservation application with the Ohio SOS. This will cost a filing fee of $39  to hold a name for 180 days.
Register the name – There is no need to reserve a name if you are ready with all documents to register your business with the SOS. Once the Ohio SOS approves your business registration, the name officially becomes yours.
Other Considerations For Naming Your Business
 Your chosen business name will create a new identity for your business. So, before you register your business, there are a few more points that you should keep in mind.
1. Trademark search: There is a chance that your selected name has an advance filing of a trademark in Ohio. So you should perform an online Ohio trademark search for your name. If you're clear, you may also trademark your own name, logo, or slogan for your business.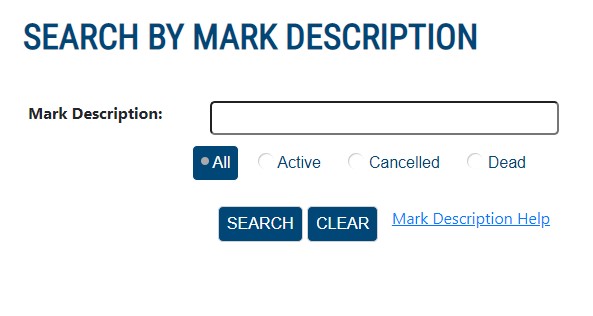 2. Domain name: Even if you don't want to get into the e-commerce territory, you need to make sure that your selected name is available to use as a domain. If it's available buy it so that others won't use it for their website.
3. Social media: Social media platforms like Facebook, Twitter, & Instagram play an important role in online reachability and presence. So your name on social platforms should be similar to your legal name. See if there aren't accounts using the name you want for your business.
Frequently Asked Questions
1. What is entity number for Ohio businesses?
An entity number is a unique identification number assigned to all registered Ohio businesses. For domestic corporations it's the charter number and for foreign corporations it is the licence number of the business.
2. How Do I Know if a business name is available in Ohio?
You may either contact the Ohio state business services at 877.767.3453 for name availability check or do this yourself online on the Ohio SOS business search page.
3. How much does it cost to reserve a business name in Ohio?
A business name reservation in Ohio costs $39 online application filing fee. This will reserve a name for 180 days.
4. What's the cost of filing a trademark in Ohio?
The Ohio state charges $125 (per class) to register a trademark in the state. This mark is valid for 10 years.