Successful businesses require good relations with partners, employees, advisors, & lawyers. But what about the state government? You need a flawless link with Florida SOS to successfully run your business. This is where a Florida registered agent comes in handy. But what is a registered agent, who should it be? and how to appoint one in Florida? This guide will answer all your questions.
What is a Florida Registered Agent?
A reliable registered agent is an absolute necessity to receive legal documents on time. There are many instances where a business has to deal with state agencies. For example, Florida businesses have to contact the SOS for changes in business info., formation documents, annual reports as well as lawsuits. As a business owner, you don't have to do all the work. You may choose a reliable individual or an organization as your Florida registered agent for effective communication with the state.
Why Is It Mandatory to Assign a Florida Registered Agent?
Florida law requires every corporation or LLC to have a registered agent. In fact, You won't be able to register your new business in Florida without detailing your registered agent on business formation documents. A registered agent is important to keep your business in good standing. You must have a registered agent and its accurate office address on file with state business records at all times.
Failing to do so can lead to serious repercussions –
If you don't have an agent and fail to file the annual report before 1st May, then it will result in monetary penalties.
Not filing the annual report at all may result in administrative dissolution as per Florida law. – This means you'll lose the status of being an active company doing business in Florida.
Can I Be My Registered Agent In Florida?
Yes, as an owner, you are free to choose yourself as a registered agent. However, you should be above 18 and have a street address in Florida where you can receive documents in the mail. Additionally, any friend, family member, principal (CEO or Founder), or individual of a business can serve as your registered agent. However, you'll have to face some problems if you choose yourself as your registered agent.
Risks of being your own Registered Agent –
You have to be present to receive mail documents during business hours. As an owner, this isn't desirable at all.

You are limiting yourself to conducting business in Florida only.
The same problem arises if you choose your family member, attorney, or accountant for the duty. Only a widespread registered agent service that operates in major states will be able to handle your business expansion.
A registered agent's address is easily available in public records. Owners could face significant privacy issues.
Can I Choose My Company As A Registered Agent In Florida?
The Florida business rules restrict business entities from being their own registered agent. You cannot choose your company as a registered agent while filing the Florida Articles of Organization. You can either elect yourself, a principal associated with your business, or outsource the service from an individual/organization.
What Should You Expect From The Agent?
Whether you are electing your friend or family member or outsourcing a registered agent service, choose a reliable one that can perform the following tasks.
Being available at a physical location in Florida during business hours.
Handle documents and service of process without any mistakes.
The agent should notify you after receiving every document.
He/she should review and forward documents to you in a timely manner.
Who Can Be My Florida Registered Agent?
You are free to appoint any trusted individual as your agent. You can choose yourself or give the responsibility to a close friend or family member. Aside from this, you may select a professional individual or a company that specializes in this field. whoever it is, you need to choose someone who abides by the rules set by Florida Law.
What Are the Rules To Appoint a Florida Registered Agent?
Florida secretary of state mentions some important legal requirements to appoint a registered agent for your LLC or corporation.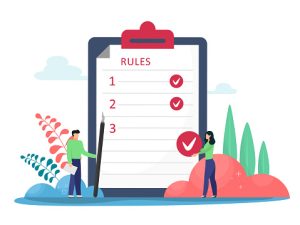 Your selected candidate needs to be a resident of Florida.
The individual has to make their name & accurate street address available in Florida public records as your agent.
The agent's address (registered office) must be a street address in Florida and not a P.O. Box or mailbox service.
The agent has to be available at the listed address during business hours to personally sign the mailed documents.
Note- If you're assigning a specialized organization then its business must be registered in the state with Active Florida filing.
How To Appoint a Registered Agent in Florida?
If you are a new business in Florida, you'll have to give the agent details when filing the formation documents with the SOS. For Florida LLC, this document is called "Articles of Organization" and for a corporation, it's called "Articles of Incorporation. Filing these documents is the final step of registering your corporation or LLC. Know how to file Florida Articles of Organization in its complete guide.
Online Registration
You can simply form your corporation or LLC online on the Florida DOS SunBiz website. (You'll have to pay $125 and $35 filing fees for LLC and corporation respectively). These forms will include a section for your registered agent info. Complete the form and file it online.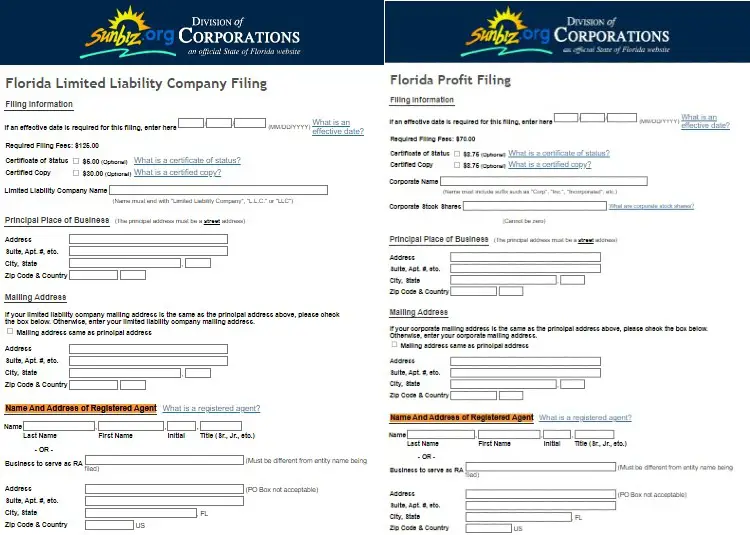 Registration By Mail
For LLC, you need to download and complete the Articles of Organization form. To form a corporation, download and complete the Articles of Incorporation. Both documents include a section for details of your registered agent. Once, completed, mail the physical copy to the Florida department of state. The filing fees remain the same.
Do I Need A Consent of My Florida Registered Agent?
Yes! it's mandatory for your registered agent to consent as a registered agent for your LLC/corporation. All you need is your agent's signature on the formation document (Articles of Incorporation or Articles of Organization). This is official proof that the agent will serve your business. Without consent, the registered agent isn't legally obligated to provide services. He can walk away without any legal obligation.
How to get a Free Florida Registered Agent?
It is mandatory to appoint an agent while forming your Florida LLC in the state. A registered agent in Florida may cost you anywhere around $25 to $300 per year. You may easily avoid this cost by hiring a Florida business organizer. Many of these services will waive the fees for a registered agent.
How Does it Work?
All you need to do is hire a specialized business formation service. They won't only help you with filing formation documents but also throw in a registered agent free of cost. You'll only have to pay the document filing fees to the SOS plus a little service charge.
Conclusion
We recommend you appoint a Florida registered agent who is suitable for your LLC in the state. They are a key source in maintaining the business reputation. A registered agent also helps you out if you are willing to form a Florida DBA in the state. Thus, keep all the important fillings up to date and maintain your status in the state.