All businesses in Texas need to have flawless communication with the SOS. Having a dedicated registered agent eases your work by receiving legal documents & paperwork from the Texas secretary of state. This guide will answer all your questions about what a Texas registered agent will do, how to assign one, and its requirements.
What is a Texas Registered Agent?

A Texas registered agent is a legally assigned point of contact for your business – receiving all documents & legal notices for your business. – including the service of process when dealing with a lawsuit. In simple words, your registered agent in Texas is essentially your business representative to the secretary of state. 
A registered agent could be an individual person or an official service serving many companies like yours. Whoever it is, choosing a reliable registered agent is an absolute necessity to receive essential documents on time. 
Why Is It Mandatory to Assign A Texas Registered Agent? 
Having a registered agent in Texas is absolutely necessary – doesn't matter if it's you or someone else. Matter of fact, you won't be able to register your business with the Texas SOS without listing a registered agent in the formation documents. Lawfully, you need to continuously maintain a registered agent to keep your business in good standing.
Even if you lose your agent, be quick to appoint a new one within 90 days. This is mandatory and could have bad repercussions to the extent that the state can administratively dissolve your LLC.
Can I Be My Own Registered Agent In Texas?
As an owner of the business, you are free to choose yourself as a registered agent when filing the certificate of formation with the SOS. If you don't want to take responsibility, you may assign any of your employees or officers to serve as registered agents. However, it'll have its own drawbacks.
Risks of being your own Agent –
There are many demerits of appointing yourself as a registered agent in Texas.
You need to be available to receive documents all the time.

You won't be able to expand the business out states as an agent has to be a resident where you want to expand the business.

A registered agent's address is by default public record. If you are running a home-based or small-sized business, this is a major blow to your privacy.
Can I Appoint My Company As A Registered Agent In Texas?
As we said, you can appoint yourself, an employee, or a third-party officer/organization as a registered agent. However, the Texas SOS strictly prohibits a business as its own registered agent. Additionally, the Texas secretary of state or any other state/federal government organization cannot be your registered agent.
What is Expected From the Agent?
Any individual or service serving as a registered agent in Texas has to fulfill some important tasks for your business. These are –
Being available at a physical location in Texas during business hours.

Accept documents and service of process without any errors.

The agent should notify the owner every time he receives documents.

Forward the documents to the business entity in a timely manner.
Who Can Be My Texas Registered Agent?
As we said, a registered agent could be anyone you trust. It could be you, your friend, a family member, or a dedicated individual/company that professionalizes in the field of registered agents. Regardless of who it is, there are some rules you need to keep in mind.
What Are the Rules To Appoint a Registered Agent In Texas?

Whether you choose an individual or an organization as your registered agent, you need to make sure that they meet the following legal requirements set by the Florida secretary of state.
Rules For Appointing an Individual
The individual has to be a Texas resident with a physical address.

He/she has to make the name and accurate street address available in public records of the state. This is highly important.

The agent's location stated in the formation documents should be a physical street address and not a PO Box. It is mandatory for the agent to personally receive the documents.

The person you assign has to be present to receive and sign documents during business hours.
Rules For Appointing An Organization
If you are appointing an organization then it must be registered and authorized to conduct business in Texas.

Its business office address should be the same as the registered office address mentioned in the formation documents. 
How To Appoint a Registered Agent in Texas?
Once you find a reliable service eligible to be your registered agent, the registration is very simple. During your LLC registration, you need to provide all details about the agent in the Certificate of Formation document. This document is the foundation of your LLC formation in Texas. Refer to the guide to know how you can easily file it with the state.
Online Registration
The Texas Secretary of State facilitates LLC formation online. You'll get all the necessary documents and resources to assign a registered agent and officially form the LLC online. This will cost a $300 filing fee and your LLC formation will take about 4 days.
Registration By Mail
LLC formation is also possible by mail. Simply, download the LLC Certificate of Formation (Form 205). This form also requires the details of your registered agent. Complete the form and submit it to the Texas secretary of state. It will cost you the same $300 filing fee. The LLC formation may take up to 7 weeks.
Do I Need A Consent Of My Texas Registered Agent?
Consent isn't necessary from your registered agent if he is providing an invoice as proof of active service. However, it is also true that a non-consenting person or organization is not obliged to do the duties of a registered agent for your business. So, you'd rather be on the safer side and take written consent.
For this, you'll have to complete the Texas Form 401-A – "Acceptance to Appointment and Consent to Serve as a Registered Agent". This requires you to pay a $15 filing fee to the Texas SOS. As long as you have a copy of this form and your Certificate of Formation, your LLC is in compliance with Texas laws.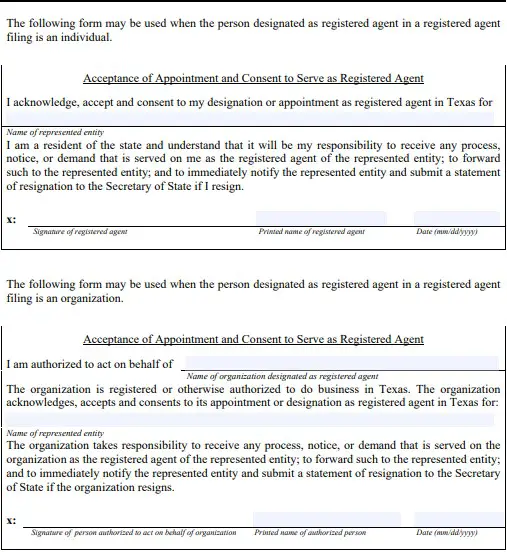 How To Get a Free Texas Registered Agent?
Although most registered agent services require businesses to pay around $100 to $300 per year, you may be able to find a free service if you are looking to form a new business in the state. There are a few famous services that provide free registered agents if you appoint them to register your LLC or corporation.
How Does It Work?
Appoint registered agent services to register your Texas LLC. Aside from handling your Certificate of Formation to form your LLC, they'll also throw in a free registered agent. So you'll only have to pay the LLC formation fee, which is $300, and a tiny amount as a service fee. Your LLC formation will get easier and their agent will keep the LLC in good standing.
This will save you from the LLC formation paperwork and you won't have to worry about finding an agent or taking that burden on to yourself. 
Conclusion
Carefully appoint a Texas registered agent while forming an LLC in the state. They should be trustworthy and can handle all your legal notices. To avoid government penalties and deck up all the legal documents an agent is necessary. A registered agent will help your way around if you wish to start a Texas DBA. Hence, appoint an agent to run your business smoothly in the state.