Looking forward to opening a new LLC or Corporation in Utah? Then conducting the Utah Business Search is the first step towards it. You can do it by visiting the Utah Secretary of state's Website. A business name plays an important role when starting a new business. SO let's know how you can do the Utah Business Entity Search.
Why Do Utah Business Entity Search?
The  Utah business search helps to ensure that your brand name is unique. The Utah naming guidelines set by Utah SOS applies to any form of business whether LLC or Corporation that you plan to form in the state of Utah. Performing a Utah business entity search is important as it helps you to know whether your chosen name can be used to form a business or not. It must not match with any existing business entity or your LLC/Corporation formation can be cancelled.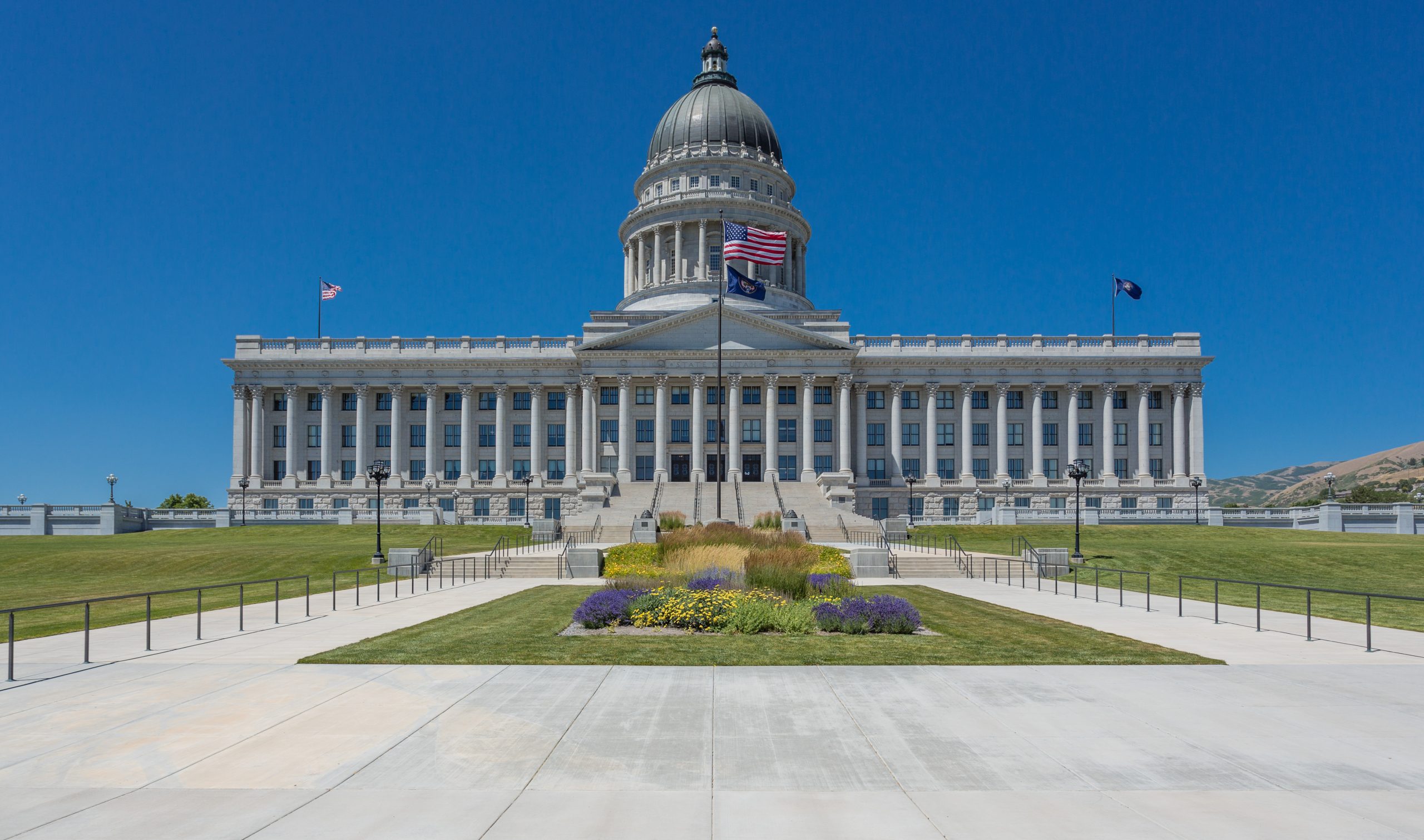 Utah LLC Naming Guidelines
Before we move ahead, we must know the naming guidelines of Utah SOS for a smoother Utah LLC search.
Your desired name must not be similar or the same as any existing or reserved business name in Utah.

The business name must contain the term LLC in any of its forms like LLC, L.L.C., or Limited Liability Company.

The LLC name must not contain words that are commonly used in government agencies.

Use of Words like," bank", "finance", and "university" are strictly not allowed as they require official permissions for usage.
Utah Corporation Naming Guidelines
The naming guideline of Utah Corporation is quite similar to Utah LLC. But some sole guidelines need to be maintained while doing the Utah corporation search.
The corporation name that you have chosen must be easily distinguishable from the ones that are already registered or reserved.

Your corporation name must include words like "corporation", "company" or "corp" at the end of your business name.

Words that are restricted like, "bank", "university" etc must not be used as they are commonly used by government agencies.

The use of obscene or indecent words is strictly prohibited.
Utah Business Entity Search Method
Visit the Utah SOS website to perform the Utah Business name search. It will help you find whether your desired name is already taken or not. Additionally, if you want to find out more about an existing business like its registered agent, address, or company time you can use other methods for a narrower search on the Utah business entity search.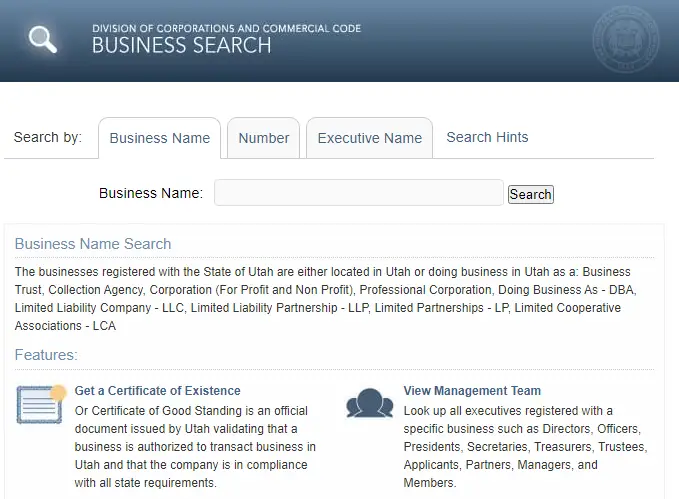 Search by Business Name – You may search various names to check for name availability or search existing businesses for details such as entity number, status, agent name, and address.
Entity Number – Every registered business in Utah has a unique entity number. Searching this number will show you the business that has that number. 
Executive Name – You may also search for executives associated with a business.
There is no processing fee for the first two search methods. However, for the Executive Name search method, you need to pay $3 a processing fee.
Utah Business Entity Search Process
Now that you are well informed about the naming guidelines of Utah corporation search and Utah LLC Search, you can easily follow the name search process on the Utah Secretary of State's website and register your desired name. The name search process comprises 5 easy steps that are mentioned below in detail –
1. List out Your Desired Name:  Often we move ahead by choosing one name and that name may not be available for registration. So to save time, it is advisable to list out a few more names that suit your business niche.
2. Perform a business search: To conduct the business name search, you need to visit the Utah Secretary of State Business search page. 
3. Analyse the search page result: Once the search results are generated, it is time to analyze and check which names are already registered. It is better to tick off the names already used and choose a rather unique and has not been registered previously.
4. Reserve your LLC/Corporation name (Optional): Once you have selected a name that matches your business niche you can reserve your name in Utah for 120 days. For that, you need to pay a filing fee of $22.
5. Register your business with Utah SOS: If your chosen name does not appear in the search result. then you might want to register your business with the Utah Secretary of State. You may choose to register your business through a registered agent or you can do it all by yourself.
Other Considerations Before Choosing a Name
A few other considerations also need to be maintained before choosing your business name. These would help you to grow your business without any hassle in the future.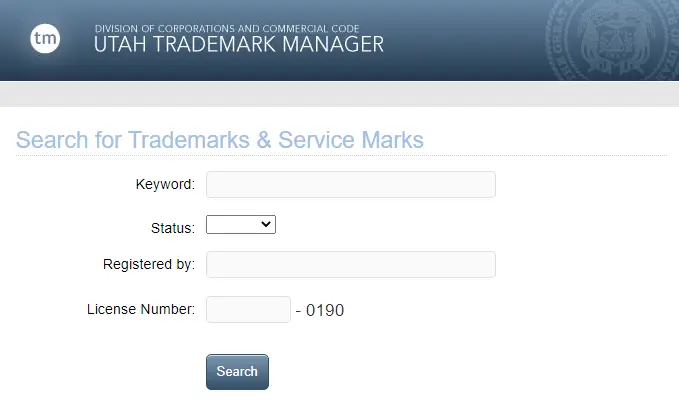 Trademark Search – Registering a name helps you to secure your brand name. Whereas if you trademark your brand name and logo you can use it anytime in the future to broaden your business niche. Doing

a trademark search

will save you from any legal actions in the future.

Domain Name –Having the same domain and business name helps you increase your online presence and reach customers easily.
Social Media Name – You must perform a social media name search to find out if any other brand has the exact name as yours. This can help you understand and plan your marketing wisely. You can also wish to open accounts using your brand name on different social media platforms.
Frequently Asked Questions
1. Will I need to renew my LLC or Corporation?
Yes, Utah SOS states that every LLC or Corporation must renew their business annually.
2. Can I also find the Business's principals name?
Yes, you can use the Utah SOS and find out any registered principal's name.
3. How much will it cost to name my business in Utah?
It may cost you in the range of $22.00 to $52.00.
4. Can I reserve more than one name?
Yes, you can reserve more than 1 name for your business and then choose one. Remember the validitty would be 120 days.
Conclusion
We recommend that you must take a broader vision while choosing your business name. Thus, performing the Utah Business Entity Search is very important as it helps in choosing a name that is not unique but also resembles your business. Choosing a name following the guidelines keeps you safe from violating any laws in the future.