Many stores across the US, allow military personnel and veterans with exclusive discounts. Now if you are a part of the military or a veteran, you should take advantage of this but does Home Depot give military discount? This guide in particular will help you understand how to register and use Home Depot military discount. Here is what you need to do.
What is Home Depot Military Discount?
Home Depot military discount also known as the Home Depot veterans discount allows all active military and veterans to get a 10% discount on their purchases. This discount is only eligible for select products. Although, they only allow a total discount of $400 annually. After which eligible members can not avail of the 10% discount.
Home Depot Military Discount

Discount Rate

10%

Annual Discount Limit

$400

Where to Claim?

Online & In-store

Contact Number

1-800-466-3337

Official Website

Home Depot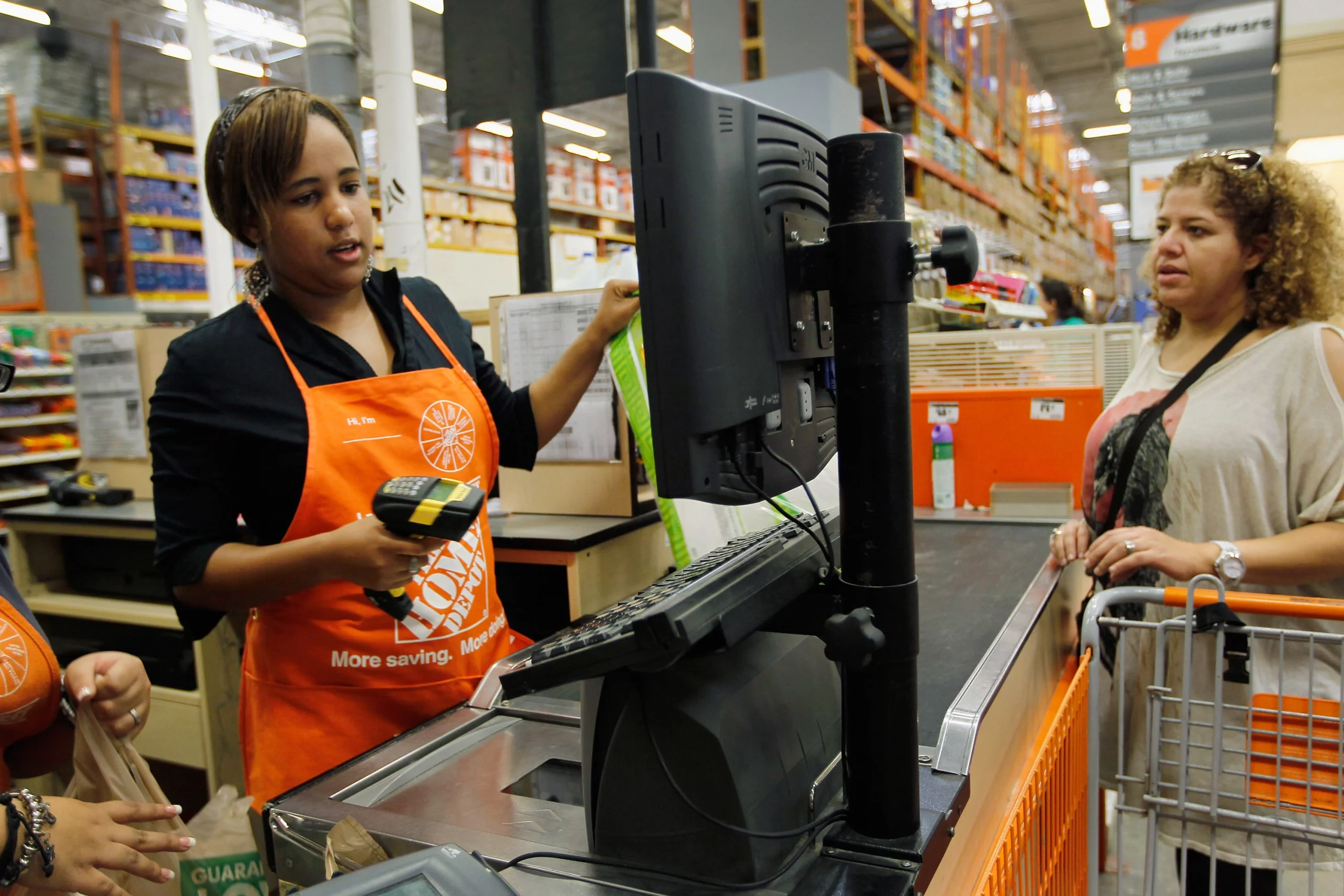 Who is Eligible for the Discount?
Only active military members and veterans are allowed to avail of the 10% discount. Although they have described exactly who all are eligible. The list is as follows:
| | |
| --- | --- |
| National Oceanic and Atmospheric Administration | US Public Health Service Commissioned Corps |
| Coast Guard | National Guard |
| Marine Corps | Current Spouse |
| Army | Navy |
| Air Force | Space Force |
At the same time, it is also important to note that dependents of military personnel, dishonorably discharged veterans, and non-military members will not be eligible for the Home Depot military discount.
How To Register For Home Depot Military Discount?
It is necessary that you go through the process of home depot military discount registration. Without it, you can not use the discount on your purchases. You can register for this discount program from either their online website or from the application. Follow these steps:
You will then have to follow a few on-screen instructions. You will also have to create an account on Sheer ID to verify your military service. First, start with creating your account and then verify the documents.
Finally, after the process is verified, your account will reflect your military discount status. If you are having trouble registering for this program, you can visit the Sheer ID help page.
How To Claim The Discount In-store?
It is very easy to apply your discount on your purchases when you visit the store. First, simply locate your nearest Home Depot store. You can start your shopping and then go to the checkout section and show your virtual id using the Home Depot application on the phone.
This virtual id will only be generated after your registration. The associate will then apply the 10% discount on your eligible purchase and you are done.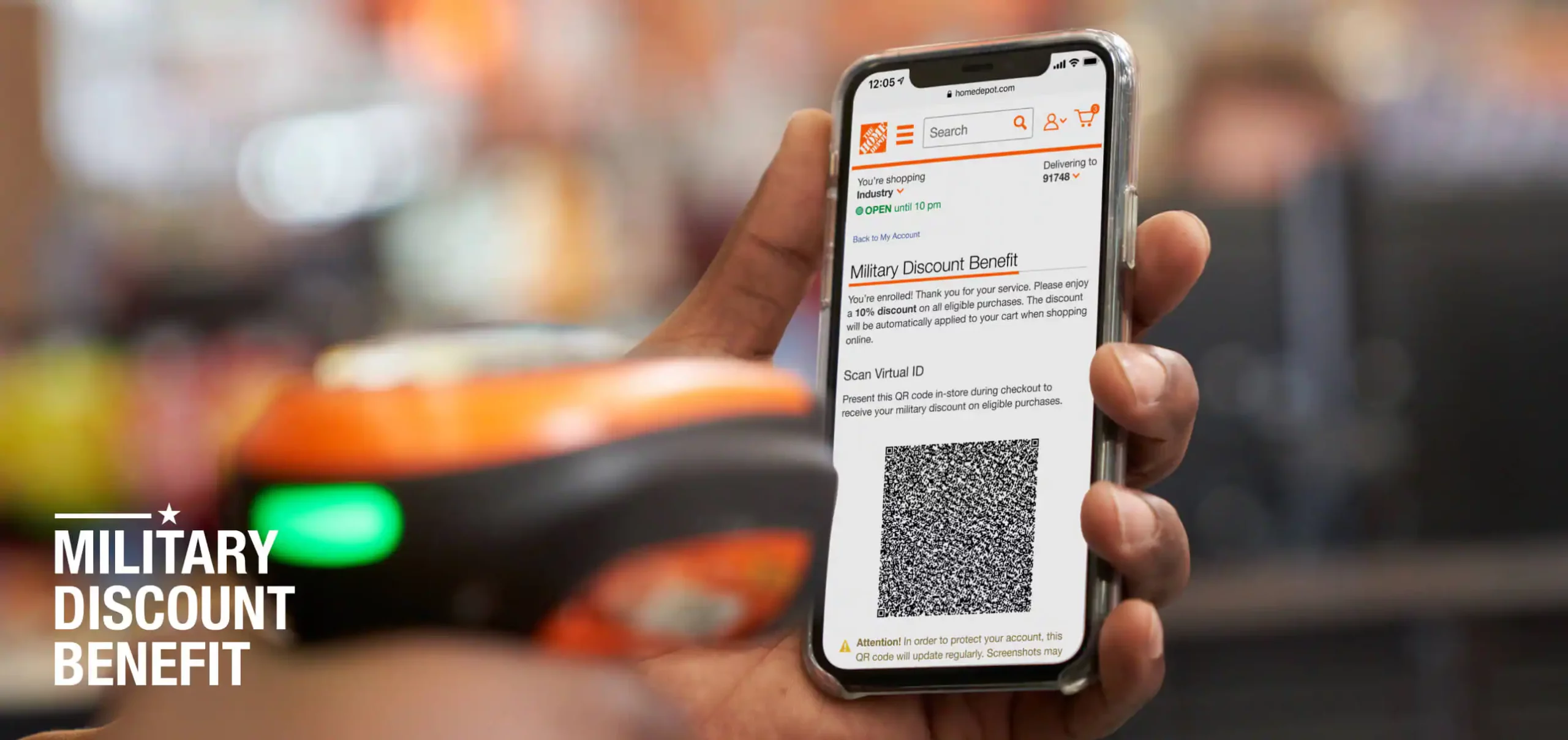 Home Depot Military Discount Online
If for some reason, you can not visit the store, you can easily shop online as well. After the registration, your account will be activated with the military discount. You will be able to see a virtual id linked to your account only.
Applying for this discount online is very easy, simply visit the website or home depot application. Log in to your account and select the products you want to purchase at checkout. The code will apply automatically as you have already verified your military status and it is now linked to your account.
Note: Use the same account from which you have verified your military service status on Sheer ID.
Home Depot Military Discount Exclusions
Not all items across the store are eligible for the Home Depot military discount. Before you go shopping at Home Depot, ensure that you know which products are ineligible for the discount. Here is a list, take a quick look at it.
| | |
| --- | --- |
| Lumber | Wire |
| Building Material | Value-priced Merchandise |
| Appliances | Tool Rental Fees |
| Labor Items | Gift Cards |
Note: The discount can not be applied to the freight and delivery charges on your order.
Frequently Asked Questions
1. Are military spouses eligible to use the discount?
Yes, certainly. Spouses of military personnel or veterans are allowed to benefit from the Home Depot military discount.
2. Can military personnel and their spouses have a personal Home Depot account?
No, eligible spouses must have a different account and can apply for the military discount as well.
3. What should I do if I have issues enrolling?
You can visit the help page of Sheer ID which will guide you further about how to solve the issue.
4. Can I stack the military discount?
No, when you are using the military discount, you will not be able to stack any other discount with it.
Does Any Other Store Offer Military Discounts?
Stores keep on updating their policy so it is important that as a consumer, you also stay up to date with their policies. Here if you are looking to take benefit of the military discount at other stores as well, you must first find out whether they offer the military discount or not.
To help you with this, we have created guides on some popular stores where consumers like you want to shop and hope to take benefit of the military discount. Here are some stores, you should know about: Lowe's, Ikea, Sam's Club, Pottery Barn, and Target.
Conclusion
As a gesture of gratitude, many stores across the US provide discounts to the military and veterans. Although these policies just like the Home Depot military discount have some procedures to go through just to eliminate any unethical use. We hope our guide could help you with the registration and any other queries.