Planning to upgrade your electronic devices at the best prices? Look ahead for the HP products that you can buy with an HP student discount. If you are currently studying then you can easily take advantage of the offer.
Find out more about how these program helps you to save big. Make your shopping experience more convenient by going through our complete guide.
HP Student Discount Program
Claim up to 40% HP student discount on your everyday purchases. All university students, parents/guardians, and teachers who reside in the United States are eligible to redeem the offer.
Register yourself with HP to claim membership benefits. Additionally, you will get the advantages of free shipping and easy returns.

HP Student Discount

Discount Rate

40%

Where to Claim?

Online

Contact No

877-203-4758

Official Website

HP
What are the Qualifying Purchases to Use Student Discounts?
There are only a few products that you can buy under the student discount program. Check the following categories from which you can make a purchase using the deal.
Consumer PCs like HP, Pavilion, Envy, Spectre, and Omen brands
Business PCs of brands like Elite, Pro, and Workstation
Eligible consumer accessories
Third-party & business accessories
Select printers
How does HP Student Discount Works?
To apply the offer on your purchases you have to register your email address first. Make sure you enter your college or university email address for verification. Go through the following steps for easy registration.
Visit the HP education store website online
Enter your college or university email address that must end with ".edu"
Click on submit and finish the verification
If your email is already registered for the HP student discount then you can directly sign in online.
Note: Purchases are limited to 2 PCs, 2 tablets, 10 accessories, and 12 supplies per year.
What are the Exclusions of the HP Student Discount Program?
There is an exclusions list where you cannot combine or use the HP student discount. These exclusions are as follows:
Do not combine the student discount with the HP loyalty or referral program
You cannot purchase the product with an intention of reselling it through any channels
This is not valid for free gift promotions, sales tax, shipping charges, sales tax, & delivery charges
Custom products purchases from the store.hp.com, discounts, redemption of HP rewards, and gift cards
Do not exceed the purchases limit as it can result in expulsion from the program at HP's sole discretion
Ink & toner is no longer eligible for the discount
Benefits of the Student Discount Program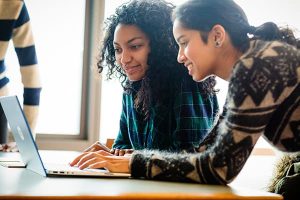 As a student, you are eligible to gain access to various benefits & deals on HP products, supplies, and services. These benefits include:
The hassle-free buying experience with dedicated support
Tailored products & bundles personalized for you and your private environment
Everyday savings
Full commercial and consumer portfolio online
Frequently Asked Questions
1. Do I have to register every time I make a purchase at HP?
No, you simply have to log in if you have already registered with your email address.
2. Who is eligible to use student discount at HP?
Student discounts can be used by college or university students, parents or guardians, and teachers who reside in the US.
3. Can I combine the discount with other offers?
No, HP does not allow you to combine the discount with other offers.
4. Can I return the purchase made with the student discount at HP?
Yes, you can make free returns at HP for the products purchased with a discount.
Which Other Stores Have a Student Discount Policy?
HP is not the only option you can rely on when it comes to electronic items. Our guide here will help you know the details of the student discount policy of other similar stores.
Conclusion
Enjoy big savings on your HP purchases now with HP student discount prices. Register yourself now to use the offer and get great prices on laptops, PCs, and much more. Make your shopping experience smooth and more accessible.