Different stores offer different deals to appreciate the service of military members to the country. Here we will be focusing on the Reebok military discount. If you are looking to shop there soon, you can benefit from our guide.
Just like any policy, Reebok also has some term and condition. Our guide will focus on everything you should know. Here is how to get started.
Reebok Military Discount
You can avail of 50% off with the Reebok military discount policy. Although this benefit is only available on online purchases. You will also need to register with id.me to be eligible for this discount and verify your military status.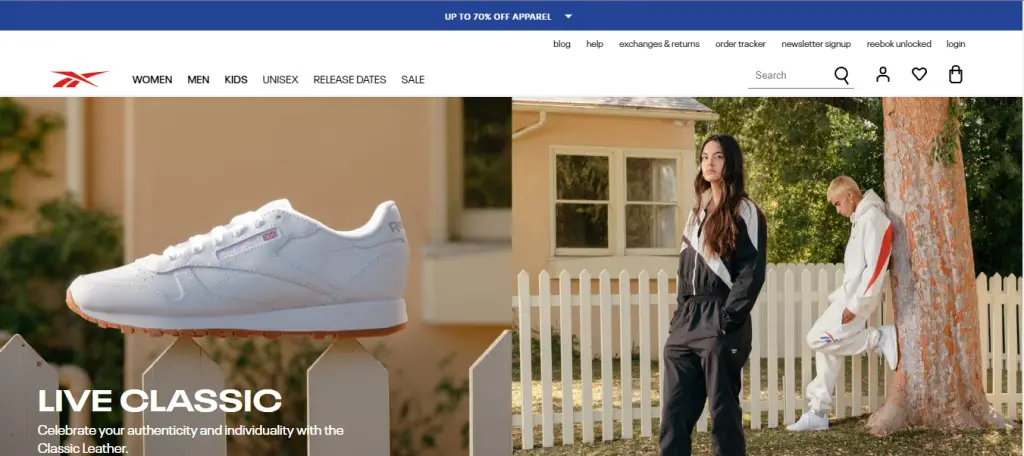 Reebok Military Discount

Discount Rate

50%

Annual Discount Limit

No Limit

Where to Claim?

Online Only

Contact Number

1-866-870-1743

Official Website

Reebok
Eligible Personnel for Military Discount at Reebok
All military and government employees qualify to use a Reebok military discount. They all get the same 50% discount on the products that do not fall under any exceptions.
Apart from them, medical & hospital workers, first responders, teachers, and students are eligible to use the discount after verification. Add your active ID proof to use the discount on checkout when prompted.
How to Claim Reebok Military Discount Online?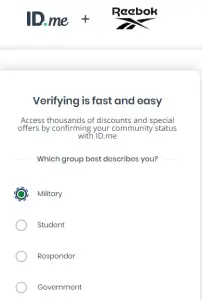 Reebok stores do not offer military discounts. You will have to register your military active-duty ID with ID.me to claim the discount on your purchases. Here is how you can claim the online discount.
Visit ID.me with your current military ID ready
Select the group that describes you. For eg, "Military"
Sign in to the ID.me account and provide documentation that has your first & last name along with the brand of service
ID.me will generate a member ID after the verification that you can link while making an online purchase
Does Reebok have First Responder Discount?
Yes, Reebok does offer 50% off with their first responder discount as well. The steps to claim the discount is the same as it is for the military discount. This discount is eligible for police, fire workers, and EMTs.
Simply link your active first responder ID with ID.me to generate a card that can be used while purchasing online. Reebok will calculate shipping charges & tax after the discount is applied.
Exclusions of Military Discount at Reebok
You must keep a few things in mind if you are looking to benefit from the Reebok military discount. These are some exclusions that will not be entertained and you will not receive any discount under this condition.
Products bought with gift certificates & gift cards
Promotional & sale products
Out-of-stock items
Do not use the discount on in-store products
Note: To solve any further queries about online purchases or using the Reebok military discount you can contact 1-866-870-1743 or chat with a live agent on Reebok.com.
Frequently Asked Questions
1. Can I use Reebok military discount in-store?
No, the military discount at Reebok is only eligible to be used online.
2. Is all products eligible for the discount?
Yes, all the products are eligible to claim the discount except the ones which are purchased with exclusions.
3. Does Reebok have veterans day discount?
Reebok has mentioned nothing about veteran day discounts on their official website so no it does not offer it.
4. Do I get first responder's discount at Reebok.com?
Yes, you can get a first responder's discount on Reebok.com.
What Other Stores Offer Military Discounts?
There are other stores as well that provides military and first responder discounts on their sportswear. But before you start shopping, we would recommend you check their discount policy. This will make your shopping experience easy & accessible.
Conclusion
Now you know how you can save while shopping for sportswear with Reebok military discount online. Remember, your verification is important for the discount program. If you are facing any issues with verifications or applying the discount, you can contact Reebok customer care.