The high-quality athleisure products make Asics a unique brand of clothing, footwear, & accessories. On top of that, they also offer Asics military discounts to service members of the country.
This benefits military personnel by appreciating their services. Go through this guide to learn how it works and who else can redeem the veteran discount at Asics.
Asics Military Discount Policy
Asics offer a 40% of Asics military discount on all your full-priced product purchases. Redeem the offer on Asics.com to claim benefits on your efficient shopping.
Verify your military status with SheerID to claim your benefits online before making a purchase. Get one time use Asics discount code twice every 30 days and make a purchase of 5 products each time you checkout.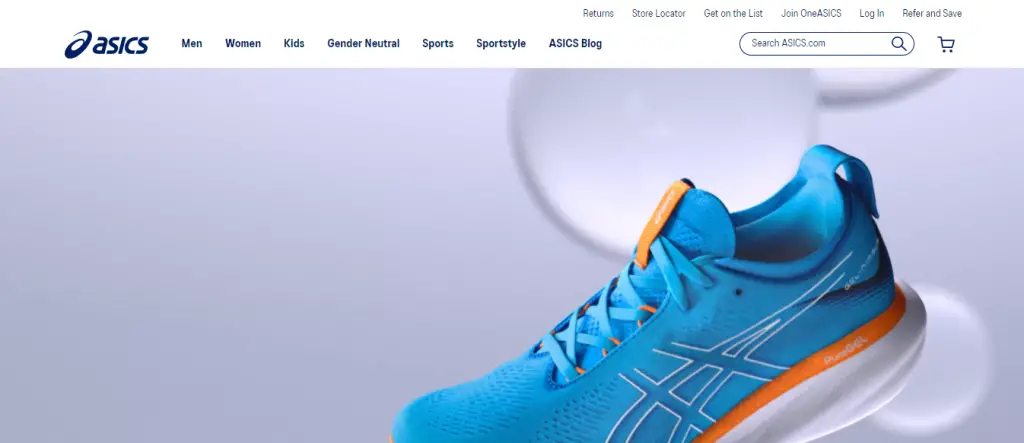 Asics Military Discount

Discount Rate

40%

Where to Claim?

Online

Limitation

2 times in 30 days for 5 products

Contact Number

(855) 233-3120

Official Website

Asics.com
Who Qualifies for Military Discount at Asics?
All active-duty & veteran military officials qualify for the Asics military discount. Reservists, retirees, dependents, and spouses of military & veteran personnel can also take advantage of the benefits.
Spouses or dependents have the same limit of purchase as the service members. They have to verify their active ID with SheerID to make a separate account before using the benefits.
Terms & Conditions to Claim Asics Veteran Discount
The Asics program terms are the same for all the eligible members who are planning to use their 40% military discount. Following are the terms and conditions that the Asics policy states.
Verified military registrants who reside in the U.S. and Puerto Rico can only use the discount
Use the Asics discount code only once and it will be expired after the program ends
Offer valid for only full-priced products on Asics.com
Order placed must only be solely used by the military personnel or their spouses & dependents
Asics reserves a right to end, change, or extend this program without prior notice
Note: Charges of shipping and tax will be calculated after your military discount is applied to your purchase.
How to Redeem Asics Military Discount Online?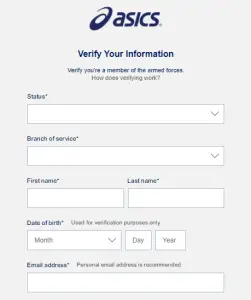 Asics only offer military discount on its official website and not in any of its stores. Check the following points to know how you can register yourself to use the discount.
Visit SheerID.me to fill out the verification form
Upload documentation to verify your status in the military
You will receive a one-time use Asics discount code on-screen or via email after verification
Copy the whole code including the dashes
Paste the promo code during checkout when prompted
Note: Dependents or spouses cannot use the same account to redeem the offer as military personnel.
What type of Documents do I have to Upload?
During the verification of your active or veteran ID proof, SheerID will ask you to upload the documentation. You will need a government-issued military ID that must have:
Your first and last name
Branch of service
Current military status
Asics Military Discount Exceptions
Every service member can use the 40% discount on their Asics.com purchases. But, there are some exceptions for which you cannot use the Asics military discount. They are as follows:
Mark-down products are not eligible for the discount
Discount does not apply to products that are purchased with gift cards & gift certificates
Prior purchases, shipping, & taxes
Do not use it for resale, cash value, store, online credit, or cash
Not on the products that are out of stock
Do not combine with other offers and discounts
You must know, in case of any violation, fraudulent activity, resale, bulk orders, or abuse of this program, your account might be immediately suspended.
What is Asics First Responder Discount?
Asics provides a first responder discount to support their efforts. You can purchase qualified products that are full-priced with a 40% of discount. Eligible first responders are police, EMTs, and firefighter.
Get yourself verified with the SheerID to redeem the benefit. The steps for verification are the same for both Asics first responder discount and the military discount.
Frequently Asked Questions
1. Can I use my discount at Asics stores?
No, the discount is only eligible for online purchases.
2. Are returns accepted for purchases made with Asics military discount?
Yes, you can return military discounted purchases to Asics using a standard return policy.
3. Does it take time to get Asics discount code after verification?
No, you will instantly get the military discount code via email or on-screen.
4. Can I use the promo code multiple times?
No, you can only use the code 1 time and apply for it twice every 30 days.
Other Stores that Offer Military Discounts
To appreciate the national guard of the U.S. there are other stores along with Asics that offer military discounts. Whereas, the policy might be different and they might offer discounts both in-store and online. To check the eligibility & qualifications of the discount visit the following.
Conclusion
Products purchased at Asics should be full-priced to use your Asics military discount online. All eligible military personnel can take advantage of this policy. Make your shopping experience unique with Asics' unique collection of clothing and accessories.