YETI is a top-rated brand for quality drinkware and outdoor coolers. With great deals online and at local stores, qualifying individuals can also use YETI military discount to save on select products.
This guide has all details about the YETI veterans discount and military discount; including qualifying members, limitations, registration and much more.
YETI Military Discount Policy
The YETI military discount enables U.S. military members, first responders, and health professionals to purchase many products at special prices. The discount is only applicable on select YETI gear and eligible individuals also have to verify their identity on ID.me to make purchases.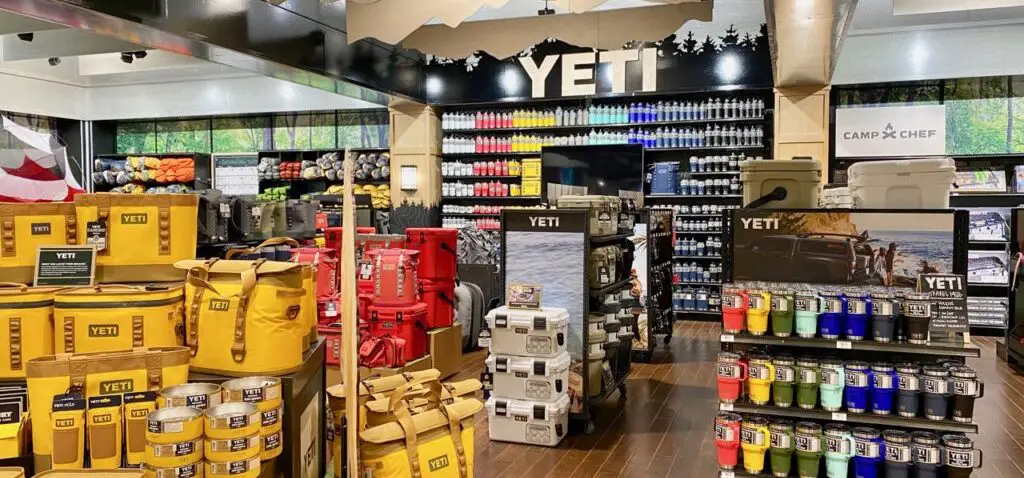 YETI Military Discount

Discount Type

Product Specific (with some exclusions)

Discount Limit

$10,000 per year

Where to Claim?

Online & In-store

Contact Number

1-833-225-9384

Official Website

YETI
Who Can Benefit from YETI Military Discount?
The YETI military discount offers select gear at reduced rates to military members, first responders, nurses, as well as government employees (state, federal & local). The military segment includes all Active duty members, Reserves, National Guards, Veterans, and retirees.
The same benefits apply to YETI first responder discount; i.e., Police officers, Sheriffs, State troopers, Firefighters, and EMTs.
How To Register For Your Military Discount?
To access your discount, you need to prove your identity on ID.me by creating an account. This will require your official military status info. After your ID.me account has been set up, you are ready to claim special offers at YETI.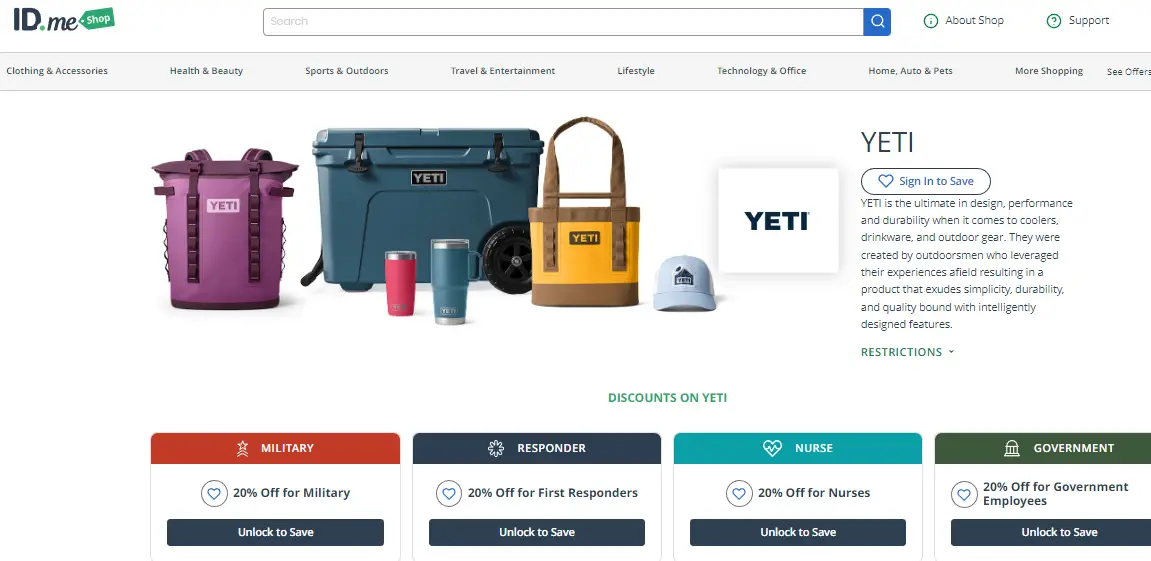 Can I Use Military Discounts on Online Purchases?
Yes, you can also claim the discount for online orders. To use the YETI military discount online, just fill up your cart as you would normally. Then do the following.
Open the cart and expand the Military & First Responders menu at the lower right.
Now, sign in to your ID.me account, and qualifying items will be priced down automatically.
How to Use My Discount In-Store?
You can easily use your discount at your nearest YETI store once you have an ID.me account. Just grab everything you need and let the cashier know you want to use your military discount. They may verify you on ID.me and ask for a government ID before marking down prices for eligible items.
Ineligible Items For Military Discount
Eligible individuals can purchase a variety of products with the YETI military discount. But some items and service fees are excluded from this benefit. Some stores may limit discounts based on availability. Typically, you may not get the discount in the following cases.
Newly released items
Seasonal colors
Limited-edition merchandise
Customization fees
Shipping charges
Remember that, international orders do not qualify for this discount. You must place the order domestically. Also, YETI may restrict you from combining military discounts with other promotions or store discounts.
Frequently Asked Questions
1. Are military spouses eligible to use this discount?
No, the YETI's ID.me military program doesn't include purchases made by spouses or other family members. Eligible personnel must use it themselves.
2. Can my military discount expire?
You may only need a yearly verification of your ID.me account to maintain a military group status. With that, you can use your discounts at anywhere, including YETI.
3. Can I use YETI military discount with other promotions?
In some cases you might be able to. But some promotional offers may not be combined with ID.me military savings.
4. What should I do if I have issues enrolling with ID.me?
Use their online help page or email them on help.ID.me for issues verifying yourself on ID.me.
What Other Stores Offer Military Discounts?
Military discounts are offered by many popular brands. So if you're in need of travel and outdoor accessories, then we recommend you check out the military discounts for the following brands.
To Conclude
The YETI military discount definitely presents a great opportunity to save some bucks on your favorite drinkware and coolers. Hope our guide would help you avoid any exclusions and make the most out of this discount. In case of any queries, you can use our comment section.